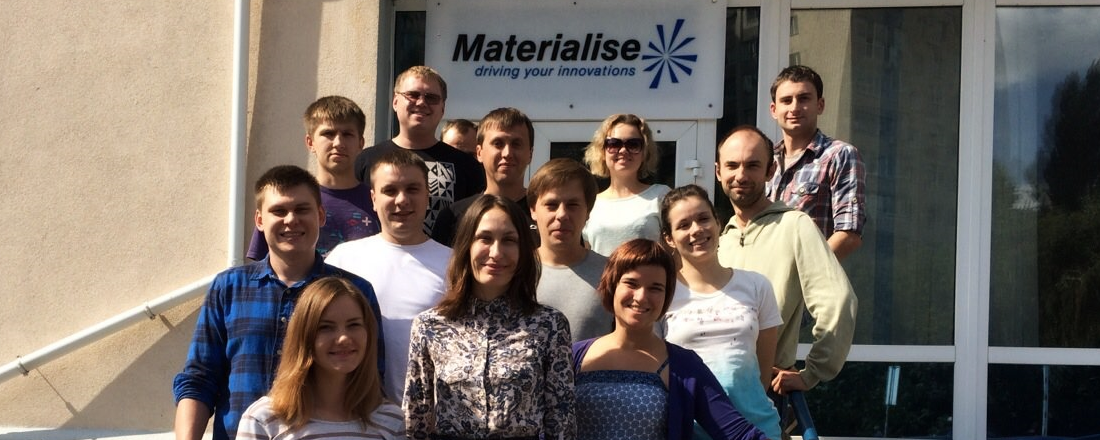 Who Are (Y)our 3D Printing Programmers and Engineers?
by Roxy | September 17, 2014
3D printers and printing service websites cannot run without programmers and engineers. They provide the crucial link between human needs and machine capabilities, and make it possible to use use our API, order from our website, and ship orders across the world.
What does an engineer or a programmer look like in the 3D printing field? And what do they do for Materialise and i.materialise?
Part of our engineering team resides in the Ukrainian capital city of Kiev, and we have your "sneak peak" into their lives. They code, program, use software, and help refine 3D printing-related technology that we will use for years to come. Here is a look into their work and life in Kiev.
Read on for details.
A large part of our programming team resides in Kiev, Ukraine. They are a rugged, strong-armed team of "doers:" a dedicated portion of the Kiev office bicycles to work every day, even in frozen temperatures. Those who drive or take public transportation still come to work in heavy snow boots during the winter, and at least two employees have experience navigating through heavy snow storms. They are some of the strongest people most of us will ever meet.
Their high standards and hard work to lay a strong foundation for future makers, designers, and engineers. They tirelessly create and advance 3D printing-related technology to make our website and API user-friendly.
"I love my job because it forces my hand to learn and implement the latest trends in frontend development." says Software Engineer Svetlana Lutsenko, who is part of a large Materialise programming and engineering team headquartered in Kiev, the capital of Ukraine.
Sveltana and our dedicated Kiev engineering team work in a city that is as famous for its burgeoning tech scene as it is for its frozen winters. This team includes some of the brightest programmers and engineers in the 3D printing industry. They set world-class standards for themselves, and for those around them.
And they have to: at any given moment, businesses and individuals all over the world count on them to keep our site, API, and other services running. With great power comes great responsibility, and our programming and our Kiev team strives to deliver the best.
For example, the i.materialise website has a lot in common with our customers' 3D designs: it has unique needs that do not nearly fit a "premade" template. At the most basic level, it features interactive 3D "preview" of each design uploaded, and also instantly generates shipping quotes for items that may not have physically existed before.
Our shipping quote system is more complex than it may appear. It takes into account several extra variables that some routine shipping quote calculators do not: the speed at which a particular 3D printer prints a particular design, the material selected, a user's physical location, the number of prints ordered, and several other variables. Based on this data, it instantly delivers a quote for price and shipping date. This quote is uniquely tailored to the needs of each print.
On a more complex level, our programmers and engineering teams power our API. Companies such as Trimble (SketchUp), Autodesk (Maya, 123D), JWEEL and Toyze (which makes 3D printed merchandise for hit Android games Pou and Cut the Rope) rely on our API to let users to 3D print directly from their personal app or website. Users use the API to connect to our servers, customize their order, and receive instant shipping quotes for their 3D print. Our programmers and engineers work behind-the-scenes to ensure that the API remains up-to-date, accessible, reliable, and easy to use.
We asked Software Development Engineer Sergey Tomashevich what he liked most about this work, and feel his quote sums is a perfect summary of what our engineers do:
"I like to give instructions, even if these instructions are for a computer."
Instructions and translations are at the heart of a programmer and an engineer's work. They work tirelessly to "translate" human needs to instructions a computer can understand, and work "behind-the-scenes" to ensure that our users get the best experience possible.
Some of them even translate the other way around: translating computer processes to human beings. The engineers responsible for this are our dedicated team of Support Engineers, who interact directly with our users to ensure files print. These engineers are not are not usually programmers, but they contribute a very important part of the user experience.
When a user submits a file through our website or API, the support engineers take it through a review process unlike that of any other site: they review the file for free, and automatically fix 80% of the files submitted. They also return the other 20% to the users with detailed explanations of why the file is unprintable. This entire process is a free service, and many designers use it as a free "evaluation" of how printable their design is.
Kiev is one the global locations to offer these services, and sets high standards for excellence in this area. We are proud to have Kiev's finest on our team, and hope you enjoyed this "sneak peek" into the important work our team does.
In the words of our very own software engineer Maksym Tkachenko, we hope that i.materialise and Materialise's Kiev team continue to work on "new features every day."
Which new features would you like to see? Leave them in the comments below!