Turning a Smart Idea into 3D-Printed Reality: A Simple Keychain That Makes Life Easier
by Fabian | March 20, 2015
Barney Mason, a product designer from the UK, is changing the world one step at a time. He started creating keychains to expand his knowledge of 3D modeling and 3D printing processes and soon found a simple, yet efficient, way to design smarter keychains.
Having graduated from Brunel University with a degree in product design and engineering, Barney worked for Faberdashery and developed new ways to showcase their 3D printing materials. Recently, he joined the design team of Those. He is now working with the Those team to develop products that provide unique brand experiences.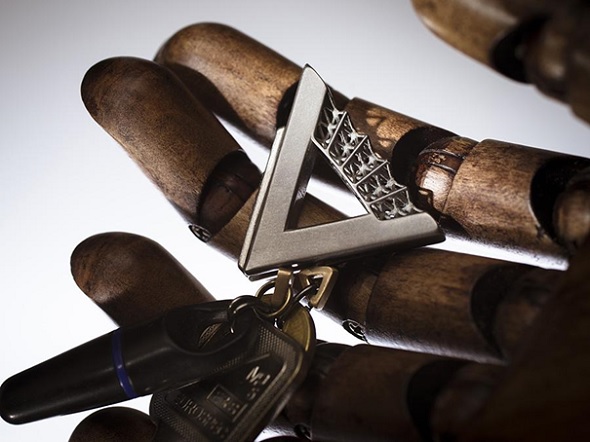 He was first introduced to 3D printing back at school when his university purchased a ColorJet printer. This piqued his interest in Additive Manufacturing and pursuing a career in design: "The technology completely changed the way I thought about turning my ideas into tangible products, and is still a strong influence on my designs to this day."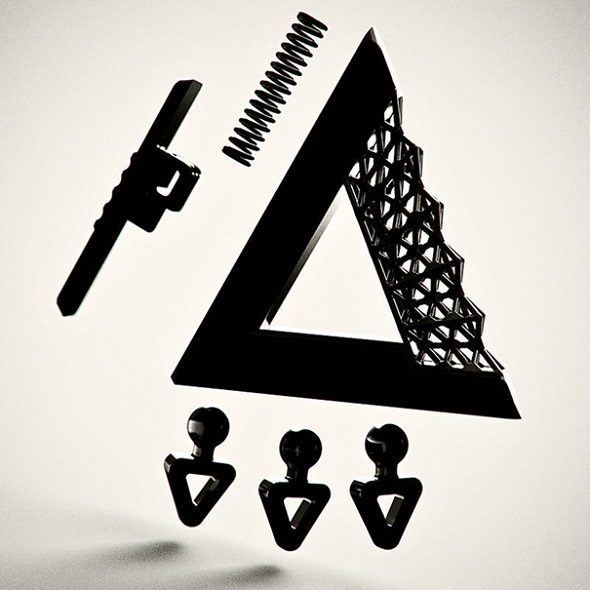 While we all use keychains to connect keys, wallets, and other personal items together, we are particularly inefficient when it comes to separating these items. How many times have you struggled with a metal ring trying to get a key loose from its grip? Thus, Barney tried to come up with a simple 3D-printed solution that allows for a quick release of an item from a keychain.

Before designing in 3D modeling software, Barney started two-dimensional:
"Sometimes I find it easier to explore designs in 2D to wrap my head around the problem. I tend to jump back and forth between sketching and modeling. I use sketching to explore form and function and to evaluate ideas before committing significant time to developing an item in 3D."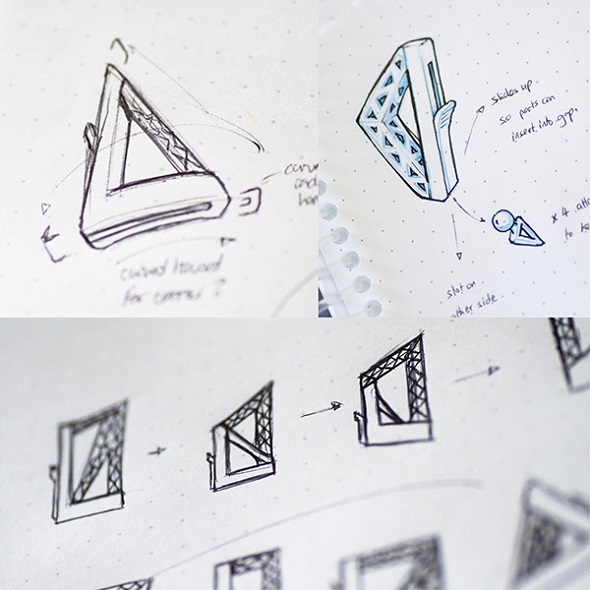 "But sketches can be quite deceptive; sometimes things that look right on paper may not work at all in 3D. So my sketches are normally quite rough before the idea gets fleshed out in a 3D environment."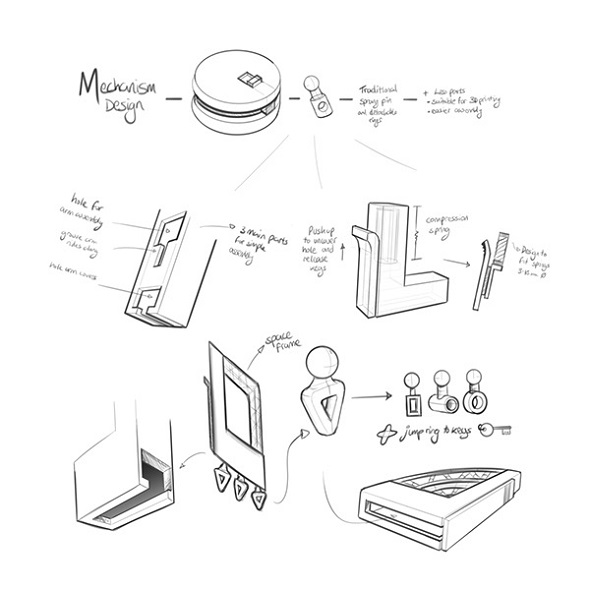 For modeling in 3D, Barney generally uses Rhino: "Rhino is a really versatile program. I also use MODO for rendering and visualization. Recently, I've been developing a workflow with Grasshopper and Rhino, and have been exploring parametric approaches to 3D modeling."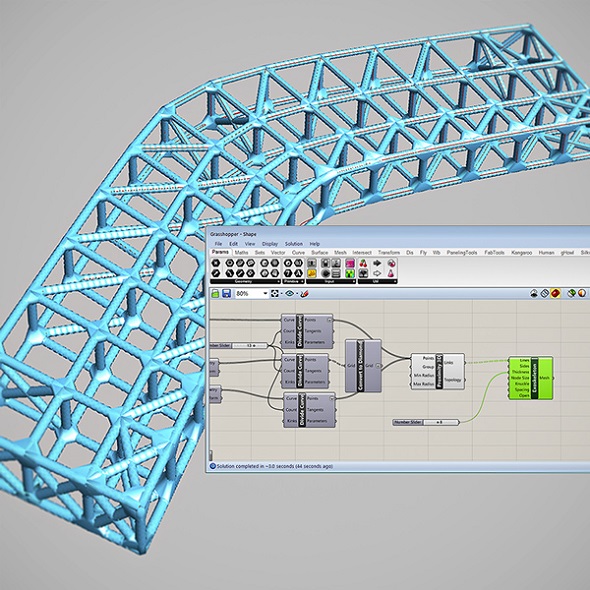 If you're looking to learn how to model in 3D, Barney recommends trying a piece of software called Moment of Inspiration. He thinks that it is a gentle introduction to modeling and will give you a solid foundation for learning more advanced packages later on.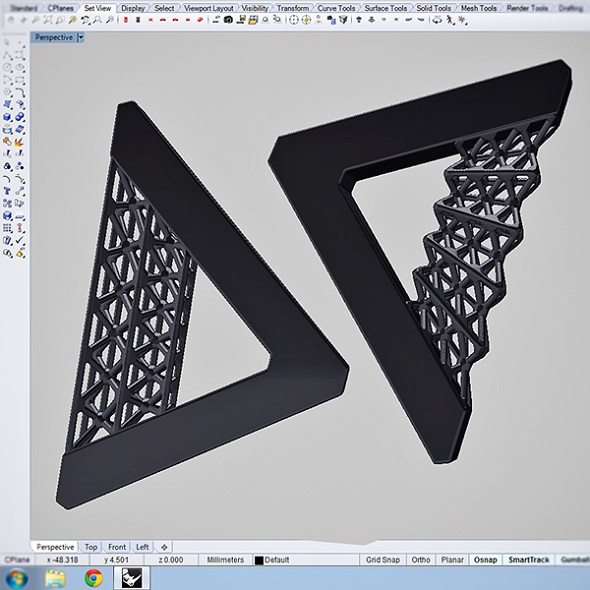 Thanks to his skills using Rhino and Grasshopper, Barney slowly turned his smart ideas into a finished 3D model. He then decided to print a prototype on a home printer. While the mechanism of the keychain worked well, the space frame structure at this scale did not print correctly since the printer he used had a 0.4 mm nozzle.
He then sent the files to i.materialise and printed the parts in High Detail Stainless Steel and Bronze. High Detailed Stainless Steel delivers a significant level of detail and strength to a 3D model and is typically used for board game pieces, miniatures, key chains, jewelry, bolts and much more. Bronze is an alloy consisting primarily of copper and is an affordable material for printing models in metal. However, due to warping and shrinkage, metal prints do need to be post-processed manually in order to ensure that mechanisms will work properly:
"Three weeks later the print arrived. The spring mechanism required some sanding due to warping/shrinkage, but I was very impressed by the level of detail. The bronze parts were manufactured using investment casting based on a wax 3D print and were made at a high standard."
The final product: A stylish keychain with a smart twist. Adding and removing items from the keychain now only takes a second.
Once again, Barney's project proved a point: 3D Printing offers a simple solution to turn ideas into reality. Just recently, Nils Anderssen used our service to print a sword for a museum, and the start-up WiKey printed prototypes of their new electronic device with i.materialise. All you need to produce a tangible product is a head full of ideas, creativity, and some curiosity.
Help us discover more great stories like these by posting them in our forum or tagging @imaterialise on Twitter!