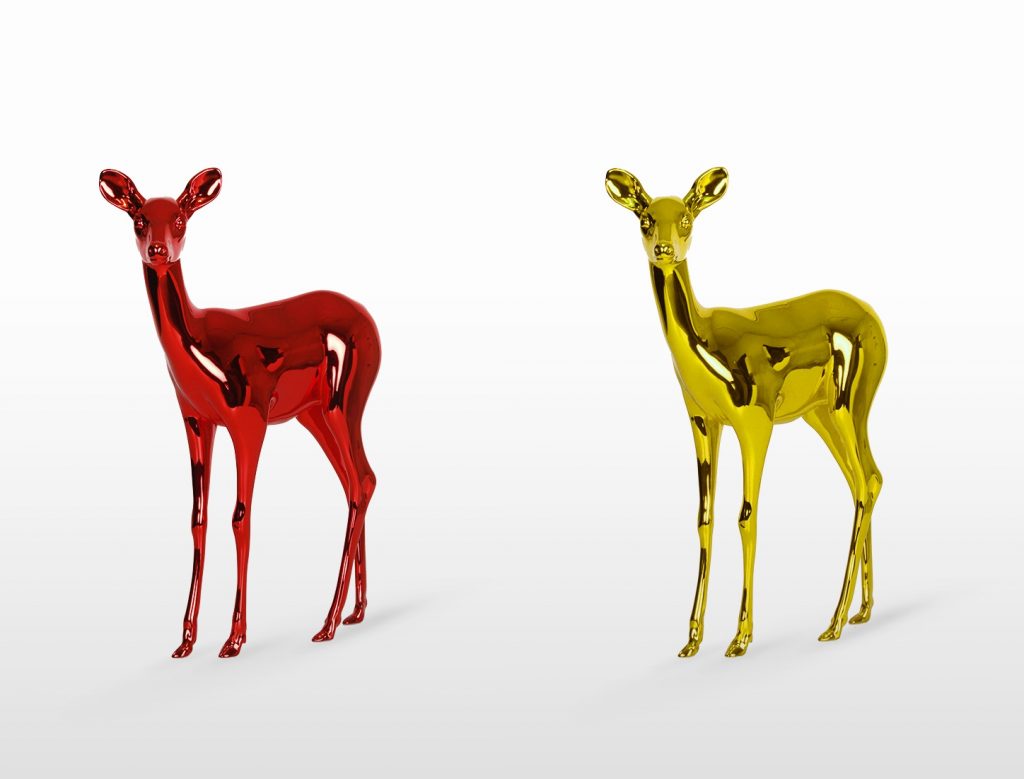 Top 5 Mammoth Resin Designs
by Aura | December 6, 2017
Resin is one of our most appreciated materials for 3D printing. From the different options of resin available on i.materialise, there is one that stands out for its size: 3D printing in Mammoth Resin. This 3D printing material is the best option for those looking for big-scale prints with great surface quality.
Thanks to these qualities, Mammoth resin is the favorite material of many designers and artists. We have put together a compilation of the best Mammoth Resin 3D designs of all time and the results are impressive. Get ready to be amazed!
Neon Deer by Paco Raphael
Dutch visual artist Paco Raphael has been using deer figures as a symbol of nature and purity, which mixed with dynamic backgrounds and neon colors result in a series of vivid pop art collages.
Printing a deer in Mammoth Resin was a big step for this designer. With the help of a 3D designer, the sculpting software ZBrush and the 3D printing know-how of i.materialise, Paco's 3D-printed deer became a reality. After a few months, Paco printed several deer of 30 cm (1 ft.) in Mammoth Resin.
He chose this material because of its super-large maximum printing size and the easy post-processing, which allowed the artist to spraint-paint the deer with neon colors.
What's more, Paco Raphael wanted to take the neon deer a step further and used 3D printing to create a mold for an even taller version of his statue: the 50cm (1.7 ft.) deer that was finally printed was a mix of old and new procedures. Fall for these cute 3D-printed sculptures after reading this article.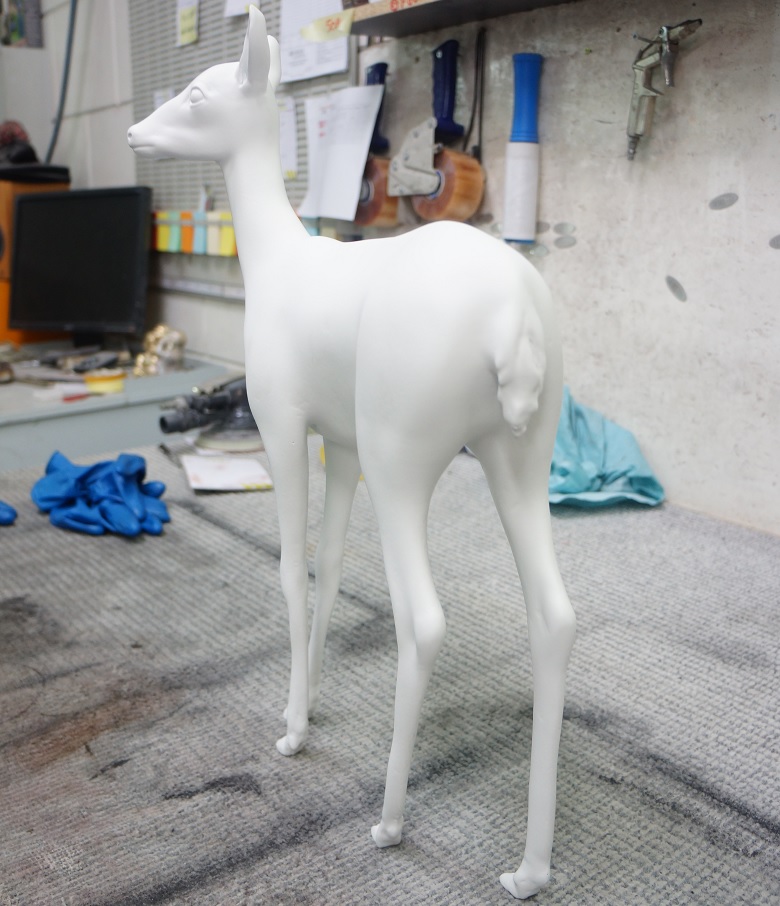 3D-Printed Bike Frame by James Novak
This extraordinary 3D-printed bike frame was an experiment from James Novak, an Australian industrial designer and additive manufacturing researcher, who is focused on sports products.
James was experimenting with 3D printing in the search for a design that would take full advantage of the customization possibilities of 3D printing. The designer was also looking for a way to produce stronger, lighter structures. The 3D-printed bike is the perfect example of a print that meets these requirements as it is designed to fit James' body proportions.
The design of the bike took four months and around 150 hours of work on SolidWorks, but it was a great learning process for Novak about the limitations and possibilities of 3D printing. Our Mammoth Resin printers offered the possibility to print this piece – and even though it is not functional yet, it might open the door for a whole new world of possibilities in bike design.
Read more about this story and the creation process of the 3D-printed bike.
The Vortex Dress by Laura Thapthimkuna
This stunning 3D-printed dress is a product of an encounter between fashion and product design. The US-based designer Laura Thapthimkuna spent more than a year working on this project, including the launch of a successful Kickstarter campaign.
Laura chose Mammoth Resin to print her design because it offered high resolution, structural rigidity and is easy to paint, which was important because the dress was finished with a black coat of paint.
The size of the dress was a challenging design process for Thapthimkuna, as well as the weight distribution and center of gravity, but she was sure that 3D printing was the best option for her project. The design started as a 2D sketch, which was turned into a 3D file with programs such as ZBrush and Maya. Letting the design go to the 3D printing manufacturer was a hard step, but it turned out to be very rewarding according to Laura. Read more about Laura Thapthimkuna's dress.
Tomato Paint Soup by Emanuele Niri
It's been a while ago since we presented the Warhol Design Challenge on i.materialise, but the results were memorable. This piece, inspired by the famous Cambell's Soup Cans painting by Andy Warhol, is a striking design printed in Mammoth Resin.
Emanuele Niri has always been interested in sculpting fluids and he was fascinated by the power of 3D printing technology and its ability to freeze geometry in the middle of a dynamic moment. Warhol's 2D work of art becomes an impressive 3D experience thanks to this technology. The final touch of shiny red paint is the icing on the cake of a great design.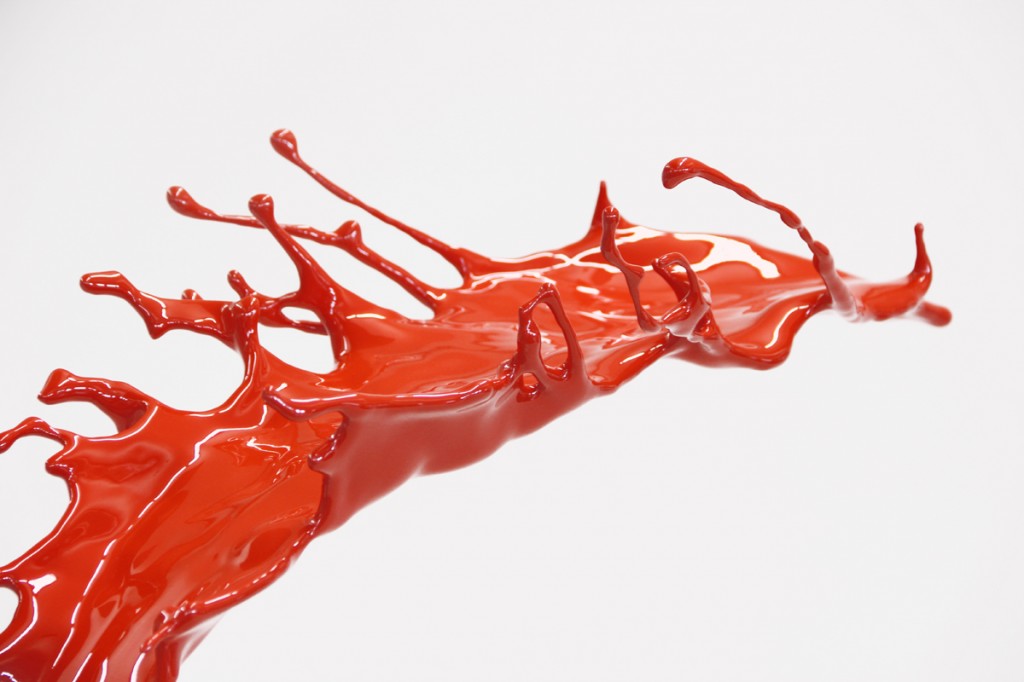 Sea Monster by Amy Doran
You will believe in magical creatures after looking at this piece by Irish designer Amy Doran. This beautiful sculpture of a marine monster was part of Amy's final project for college. The 3D print is 55 cm (22 inches) from head to tail, so Mammoth Resin was the best option for printing.
The model was created with an interesting mix of old and new techniques: clay sculpting, 3D scanning, 3D modeling and texturing. Amy Doran chose Mammoth Resin because it offered large prints in one whole part, with an excellent amount of detail and lightness at the same time. The print didn't need any finishing as the surfaces were considered smooth enough.
Do you want to know more about this Mammoth Resin print? Get all the details about this fascinating 3D-printed sea monster.
Stereolithography is the technology behind Mammoth Resin and is one of the most widely used 3D printing technologies for plastics. Learn how it works in this video.
Upload your 3D designs to our platform to enjoy the possibilities of 3D printing in Mammoth Resin. Read more about our materials and discover which 3D-printed resin is right for your design: we offer up to five different resins for your 3D prints. If you can't make up your mind, order one of the resin sample kits we offer.
If you felt inspired by these artists, get started on 3D sculpting with one of these 3D sculpting programs for 3D printing.