Tinkercad offers academic institutions free software
by Tatiana | November 15, 2012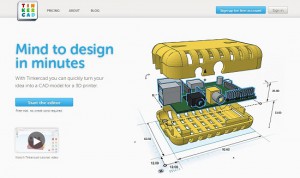 Tinkercad, the easy to use 3D design web app,  just launched a massive project. For a limited time, qualified academic institutions can use $50,000 worth of Tinkercad software.
What a great project to help democratizing 3D design throughout schools. The first 1,000 applicants can use Tinkercad for free instead of paying the yearly application fee of $75. This on-line application must be submitted by midnight PST on Friday, December 7th, 2012.
In order to apply for this plan, here's what you'll need to know:
This plan is open to ALL academic institutions, home schools, non-profits and other similar organizations whose mission is to further advance the study and teaching of 3D design and 3D printing to students
You must be able to provide accreditation or non-profit status verification
The plan applies to the 2012/2013 school year (summer 2013 included)
You must currently possess a 3D printer, have access to a 3D printer OR have the intent to purchase one in the 2012/2013 academic school year
Submit your course curriculum for the 2012/2013 school year
Creating physical products, or what we call 'design literacy,' is a right the entire world has. One of the keys is to provide the future makers of the world access to this can of software. Read the Tinkercad blog for more details.
We, the i.materialise team, hope that this project will help schools integrating 3D printing into their curriculum so students can learn the technology first hand. Go for it!