The titanium 3D printed Persian pattern Gaia 1 ring by Da Capo
by Joris | March 4, 2011
DaCapo is a boutique Irish firm of designer goldsmiths that designs bespoke jewelry pieces together with customers. They tailor each piece to the customer's wishes and work in gold, platinum, palladium and titanium. And now they're working in 3D printed titanium together with us!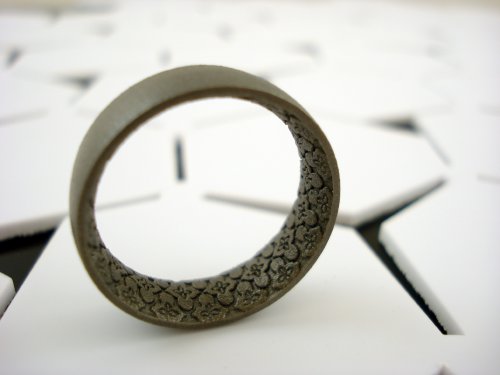 According to goldsmith and i.materialise Community Member Sé O'Donoghue the team makes "engagement rings, wedding bands, corporate gifts" and has made everything from books, to DomoKuns, to wheelbarrows, to scale replicas of Spitfires and Messcherschmidts, to Maori tattoo cufflinks, to anything you can think of" since the year 2000.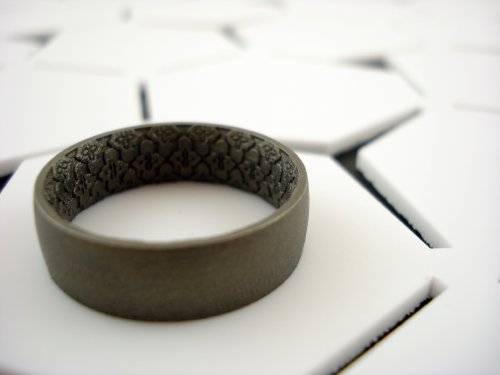 The DaCapo Gaia 1 ring is named, "after one of the first of the Titans from greek mythology after which Martin Klaproth named titanium in 1791." The special Persian inspired pattern on the ring is similar to the one Sé has used for his family's personal line of jewlery. He, his wife and 3 children all have variations on their own family pattern. That was a nice idea I'd never heard before.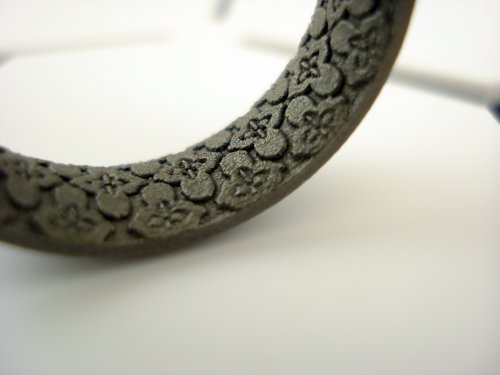 It is exactly these kind of high end artisans that i.materialise wants to cater to. We are a factory for your ideas. And DaCapo's ideas require a lot of freedom in geometry while their business model compels them to seek out lowest cost ways of producing this geometry in one offs using high end materials. We're happy to offer both. You can buy the "Raw" Gaia1 ring by DaCapo for 165 Euro ($235).
So that's is not cheap. But, we're not in the business of producing Happy Meal toys. We want to be a place where high value things are created. And I believe this ring to be a beautiful example of that.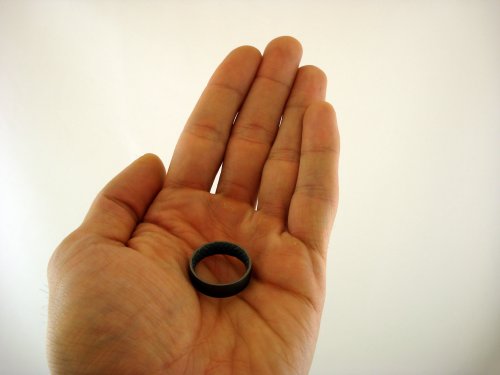 DaCapo will use us to produce "raw" titanium rings and other jewelry that they can sell directly. At the same time they will hand finish and mount stones in other pieces. For this type of production we would not supply the final product but an intermediate step. The final hand finished ring can be seen below.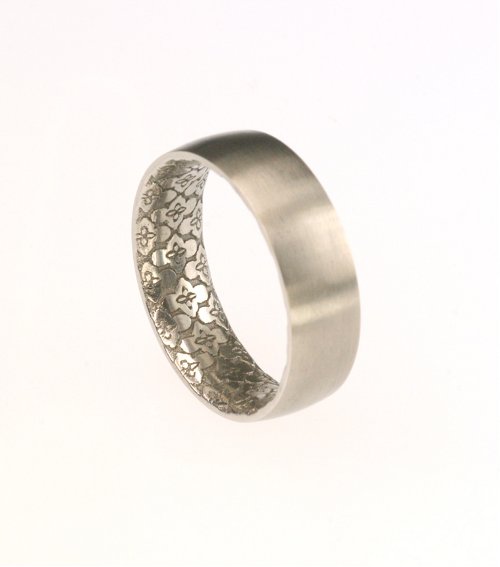 We think that its an inspirational combination of 3D printing technology with skill, artisanship and love.
You can buy the final ring on Etsy for 270 Euro ($386).
The Raw titanium ring is 165 Euro ($235).
Check out their Etsy store here.
If you would like to work with DaCapo to design your very own unique piece of jewelery you can contact them here. To see some beautiful pieces you can check out their blog here. And this site also lists some of their work.