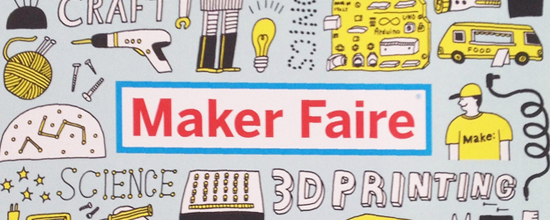 Thanks for stopping by to see us at Maker Faire Tokyo
by Franky | November 6, 2013
We had a great time in Tokyo at the Maker Faire. We met many new people, talked to a lot of press and saw quite a few Japanese customers as well. 'Arigato gozaimashita' to everyone who stopped by to look at our booth, ask questions, and talk about 3D printing. 
The National Museum of Emerging Science and Innovation, known as the
Miraikan
, hosted the  2013
Maker Faire in Tokyo
. The event in Japan is smaller than its counterparts in San Mateo and New York but visitors are equally enthusiastic and just about everyone over here seems to be aware of 3D printing, even the young ones. Everyone visiting our booth enjoyed seeing our Periodic Table of Materials and many were surprised to see to such a display of materials. It's been great to talk 3D printing non-stop for 2 days, seeing
Mark Bloomfield's Daisy hat
being featured by NHK (Japan Broadcasting Corporation) and introducing so many new people to our service.
We have posted more photos in our Facebook and Google+ galleries, so check them out. Thanks again, everyone. See you again next year?