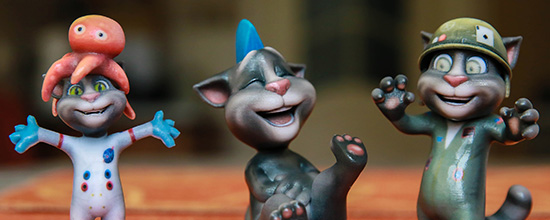 Talking Tom Comes to Life Thanks to 3D Printing Toyze App
by Katrien | November 17, 2014
Outfit 7's Talking Tom and his friends, are now part of the Toyze app! Talking Tom has been downloaded over 2 billion times, and now Tom comes to life thanks to Toyze, which brings characters from the digital realm to real life.
For the readers who have been frozen in carbonite this past decade (much like Han Solo): Talking Tom is your virtual pet cat that responds to your touch and repeats everything you say with a funny voice. You can pet him, poke him or grab his tail…
Toyze is the first marketplace where you can customize, share and buy licensed characters from your favorite mobile games. Their easy-to-use 3D editor allows you to add your own design of your favorite character, which you can then share with your friends or 3D print at i.materialise and have it delivered to your doorstep!
Alongside Talking Tom, you will find other customizable game characters the likes of über-popular Om Nom (from the award-winning Cut the Rope series) and Pou (which has seen over 200 million downloads). This 3D printing app start-up launched barely a year ago, and has already appeared in major publications including VentureBeat, 3Dprint.com, and Yahoo Finance.
"Talking Tom and Friends cast of internationally beloved characters are an incredible addition to Toyze's portfolio. We are thrilled to be joining forces and giving their two billion plus fans the ability to take these lovable characters out of the app and into their hands!"

Vilius Rinkunas, CEO Toyze
Toyze and i.materialise worked together to ensure the figurines will be 3D printed in one of the highest-quality materials fit for public consumption, multicolor gloss. This premium material is engineered to meet the exact standards of Outlet 7's Talking Tom series. This material prints in color and is solidly weighted (similar to smooth stone or wood). Its smooth gloss finish intensifies dark and vibrant colors, a necessity for printing bright cartoon characters.
What's next for Toyze? Follow their site for the latest news.