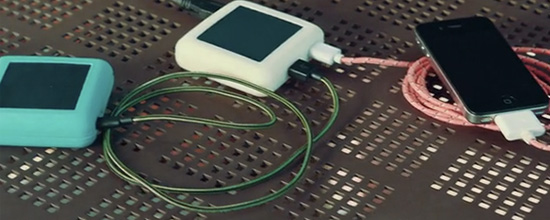 Spor on Kickstarter: A Pocket-Sized Solar Charger in a 3D Printed Shell
by Yui Takahara | June 6, 2014
Many of you must know how depressing it can feel to be in a boring class or meeting with no outlet for distraction because your phone is at 2%. Or the frustration of travelling somewhere with limited access to a charge point and your phone is again at 2%. Spor, a handy solar battery charger in a 3D Printed shell, can solve both problems. Plus, how cool is it to carry the power of the sun in your pocket?
Spor is a self-regenerating battery charger for USB devices, packed into a pocket-sized 3D Printed shell. It can charge a digital device almost as fast as a wall outlet by soaking up power from both sunlight and indoor light. And, because it's equipped with 2 USB ports, you can charge two devices at once, or even link multiple Spors together to build up a greater capacity.
This ingenious solar-powered charger was invented by three students from Philadelphia's Drexel University, with a vision to make clean energy more accessible and affordable for everyone. They're now looking to raise $100,000 on Kickstarter to bring Spor to the world.
In addition to being a useful product, Spor is also a smart social business. This simple and durable charger was designed to stimulate rural empowerment through technological access, without a big investment in infrastructure. "Giving each dwelling a Spor for storage and use would give each villager autonomy over their own energy generation and use," explains Spor co-founder David Hunt.
We're very happy to be a part of this project as supplier of the 3D Printed shell. Spor's founders not only 3D Printed the initial prototypes with i.materialise, but also aim to fully integrate 3D Printing into the supply chain once the product goes into full scale launch. By pledging $50 or more on their Kickstarter page, you can be one of only 500 people in the world to receive a limited edition 3D Printed Spor charger! And because the Spor is produced using 3D Printing, you can customize and show off your Spor in an original shell.
"We believe the future is to let you make it the way you want. That's why we want to give you the option to view our designs or make your own and have a beautiful and unique shell that houses great components for your Spor." – From Spor Kickstarter page
Charging your phone with a solar-powered charger packed in a 3D Printed case sounds like something we can only imagine in the distant future.
With your help, it may not be so far off after all. Spor's funding period runs until June 30th. Join the movement and spread the power!