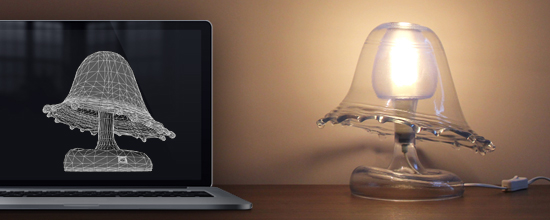 Splash Lamp by Desmond Chan Beautifully Captures a Moment of Liquid Art
by Yui Takahara | June 27, 2014
There is beauty in nature that we just can't see with our naked eyes. A tiny water drop forming beautiful liquid art is one of them. In a new 3D Printed lamp, Desmond Chan depicts this very moment; one that can only be captured with a high-speed camera.
It All Started with a Very Special Present
After studying computer animation in the UK, Desmond started his career in the animation industry in Hong Kong more than 10 years ago and currently works in a toy company as head of animation and digital media. Although he says he doesn't have much time to spend on his own creations these days, his 3D prints certainly look superb.
Desmond began to explore the world of 3D designing only last year. He says, "I was looking for a Christmas present for my wife, but I couldn't find anything special. So I decided to design a pendant and 3D print it just for her." The result of his first attempt at 3D design was this beautiful Starfish Pendant, now also available in our shop!
3D Printed Liquidity
Splash Lamp is Desmond's second 3D Printed piece. "Inspiration for this lamp came from a picture taken with a high-speed camera, which seized the very moment when a water drop created an unbelievable liquid art," Desmond explains. However, transforming the delicate fluid lines of the water surface into a large 3D Printable model wasn't so easy. Desmond says his 3D model was rejected several times by other 3D Printing service operators before he finally turned to i.materialise. After several amendments to his design, the liquid art was successfully 3D Printed for use as a functioning lamp.
When a light bulb is installed, Splash Lamp sheds a gentle light through its semi-transparent shade. This unique glow is created by the transparent resin material used for printing. It is an unlikely material for a lamp; however, the smooth surface was the most suitable to portray the texture of water in motion.
Desmond is now planning to design another lamp made from several hundred small snowflakes. What a great present for the holiday season! Follow him on Facebook and be the first to witness his next creation.