Share your uploaded 3D design to the world!
by Tatiana | September 13, 2012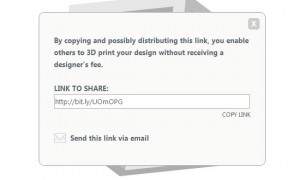 Always wanted to show your uploaded 3D design to friends or family? Now you can! Our share function makes it possible for other people to see your uploaded design so you can ask their opinion.
Sometimes, you just need an opinion about your design. You're not sure about the size, the material and other people may help with that. Now you do these things in one simple click. When you upload your design in our 3D printlab just click on 'share your model'. You will get a link so you can send it to everyone you want. But be careful: the link only works for thirty days!
Or you want to give other people the possibility to print your design? No problem: click and share! It doesn't only seem easy: it IS easy. So why don't you try it yourself?
Keep your creativity going.
For your information: Titanium online pricing is now available!