Rolling out a bigger shopping cart @i.materialise
by Wim | July 14, 2011
Dear community members, your prayers have materialised today !
Well, at least some important ones.
Our shopping cart has been enlarged to hold as many models as you like.
This makes it easy to fill it up and reach the 100$/100€ order value free shipping limit.
We also repaved the way to the checkout and improved the easiness of adding earlier uploaded models to the cart.
Requesting offline prices for several difficult models can also be combined in 1 offline price request.
We will put those models back with a price tag on your personal shelf.
And yes, we implemented a test for WebGL.
Let me guide you through the latest update.
Starting
Best thing to do is to log in first.
It will save you time using the site. For example all uploaded models will show up for later usage in your profile pages.

In case you don't have a login yet, sign up. Only fill out your name and email address.
In case you don't want to sign up now, that is possible too, we accept orders without you having a login.
Adding extra models to the cart
Start by uploading a model to the 3d print lab, select the material and press [add to cart] button.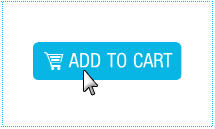 You will be redirected to the cart. Adding other models to the 3d print lab can be done by uploading a new model from here or getting it from your previously uploaded models where you can select again the desired materialising options and add it to the cart.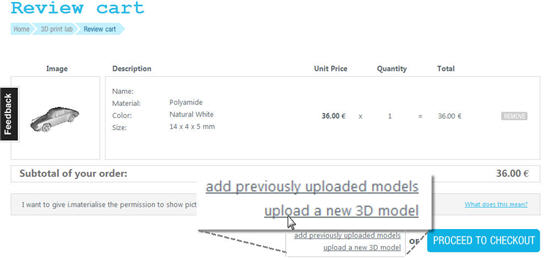 The 3D print lab has a quicker way to add models directly into it.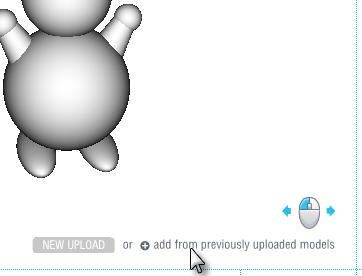 My profile has changed?
When getting older, your profile changes, same with your profile pages on i.materialise.
The tabbed approach of the profile pages was too limiting for the things we have in mind for you and you for us.
Check out the sections of the uploaded models and the offline price requests.
The uploaded models section will contain all models uploaded through the 3D Print Lab.
The offline price request section will allow you to pick out models to add them to the cart as soon as our customer service team has given a price tag to them.
The order section will be coming up soon, that service didn't make it to this release.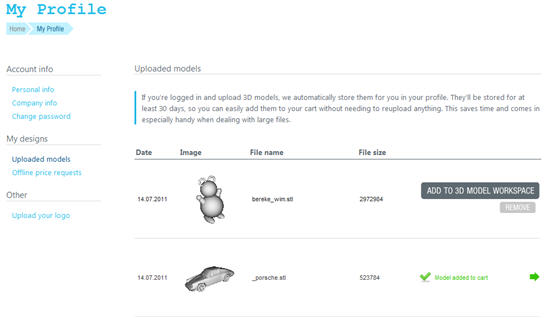 Â
Restyled gateway to the checkout
The restyled checkout is up to you to discover.
It is in line with the idea to make it as easy as buying a T-shirt online.
Important to mention is that you have the choice of 2 the shipping services for deliveries in Europe.
UPS express Saver delivers in Europe the next day after shipment, UPS standard takes about 1 to 3 days in Europe.
Outside Europe, we always ship with UPS express Saver.
When your order exceeds the  99 euro/99$, the default shipping method is for free.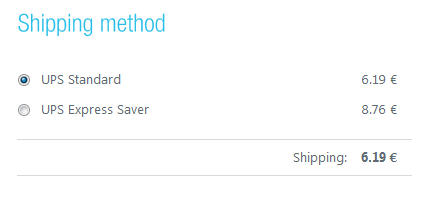 WebGL supported preview in the 3D Print Lab
Good news for those who want to look at their model at all angles and distances.
Initially we believed that persons who upload their model didn't have this need since they designed it.
We thought a simple preview would be ok.
Seems we were wrong.
There is a desire for a visual verification after the upload and in case the model is automatically fixed.
Another good reason to offer a WebGL preview in the 3D Print Lab : it is fun !
Watch the screendump movie to see how the preview is now working.
The model made was exported automatically from 3Dtin.com to i.materialise.
The permalink to the model is http://www.3dtin.com/7hs
The WebGL view is supported in Firefox and Chrome, only for STL files with a file size of max 5 MB.
This new WebGL visualization is added as a test.
We would like to receive feedback from you in other to know whether to continue with it or not.
Renewed but not finished
Our site had several significant updates over the past year and we have plans to continue doing so.
We prefer to improve with small steps and a time instead of releasing a full blown site at once.
In this way, we get faster feedback from you and help us determining how and what next to do.
Let us know what you think about the renewed checkout lane !