Raising the Bar for 3D Printed Precious Metals: Introducing 18K Gold and Faster Production Times
Good news for jewelry designers and gold enthusiasts! Now in addition to our existing 14K option, you can 3D print in 18K gold with i.materialise! All three colors (yellow gold, red gold, and white gold) are now available in both 14K and 18K gold. On top of that, we are happy to announce that gold prints now ship faster! 
3D printing high-quality gold rings, bracelets, necklaces, earrings, or any other object you have in mind, has never been better: the 18K gold option is finally here! Our three gold color options (Yellow Gold, White Gold, and Red Gold) are available in both 14K and 18K. A slight color difference between 14K and 18K is caused by the amount of gold that is used. 14K gold contains 58.5% pure gold whereas 18K gold contains 75%. Because of this, you will also notice that an 18K gold item will be heavier than the same item in 14K gold.
Take a look at the following examples to get a better idea of the color difference between printed 14K and 18K gold objects and to learn more about our faster production times.
Yellow Gold (14K and 18K) now ships in 10–13 business days.


Red Gold (14K and 18K) now ships in 12–15 business days.

White Gold (14K and 18K) now ships in 10–13 business days.


Note: Due to the higher amount of gold, 18K white gold
will appear more yellowish than 14K white gold.
Another good news: the design specifications for 14K and 18K are exactly the same. Minimum wall thickness (0.5 mm), minimum details (0.3 mm), and maximum size (88 x 63 x 125 mm) won't change. Click here to find out more about the existing design specification for printing in gold.
This is due to the fact that the technology for printing in 14K and 18K is the same: First, a wax cast of your item is 3D printed, then it gets covered in a fine plaster. When the plaster solidifies, it is put in an oven to a point where the wax is completely burned out. The gold is then poured into the empty cast and your real 3D printed gold item is created. In the final step the item is polished and finished manually. Click here if you want to find out more about the technological aspects of printing with gold.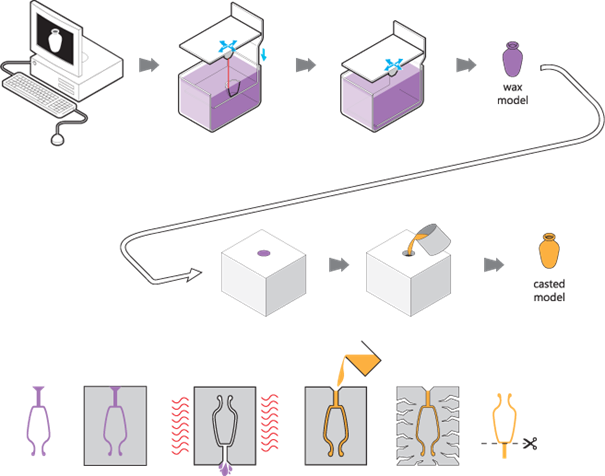 Do you feel like making a 3D print in one of our precious metals? Make sure you check out our material page about gold. Not quite sure which metal to use for your prints? Compare gold with any other material here. Still in need of some jewelry inspiration? Then we've got the right blog post for you here.