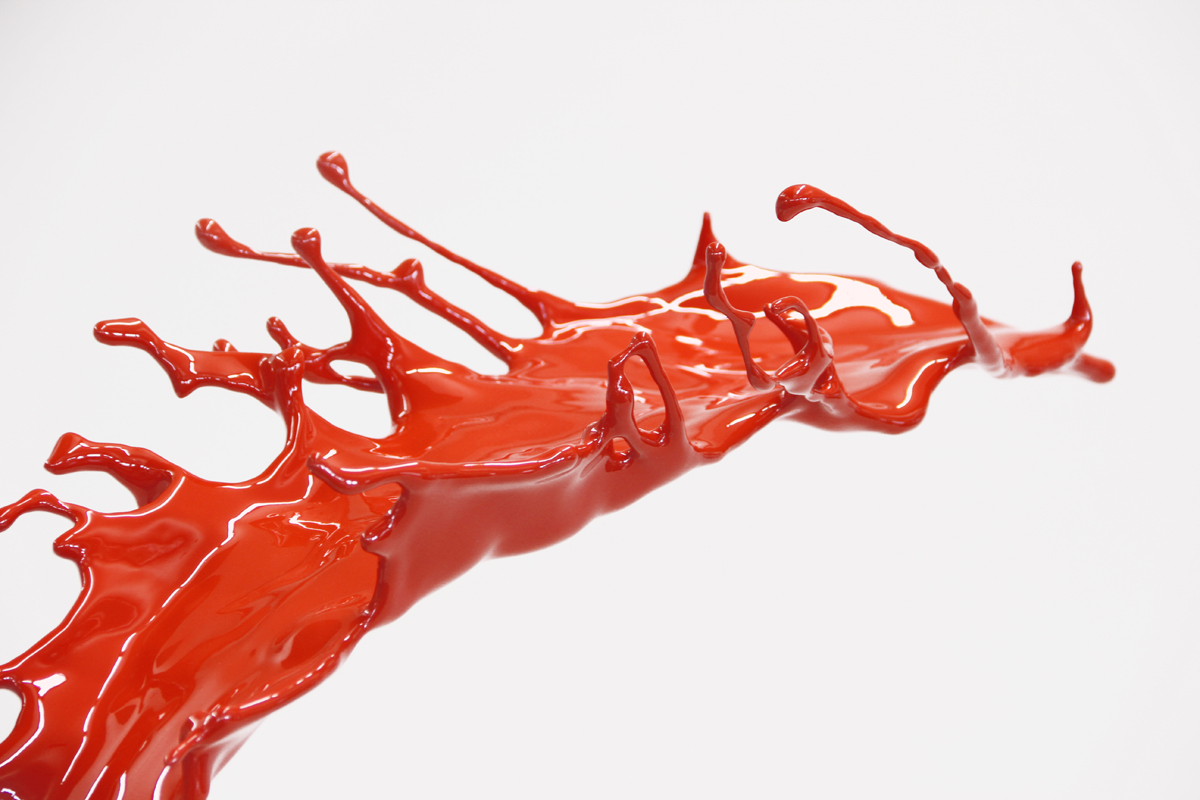 Our 8 Favorite 3D-Printed Sculptures
One of the things we love about 3D printing is how it brings out the creativity in people. It's a technology with almost limitless design possibilities – and that leads to some pretty fantastic art. Discover what our favorite 3D-printed sculptures are!
Neon Deer by Paco Raphael
"This animal was so pure, so gentle, so noble. Wouldn't it be nice if I could put the deer in a dynamic city like New York, expand it and put it in a neon color? This resulted in a series of pop art collages. I have worked it out and made them into five different versions with different deer in different cities," Paco told us.
With his giant, neon deer, artist Paco Raphael is making full use of the extra-large sizes enabled by Mammoth Resin 3D printing. This Stereolithography material is the best option out there for projects where size really does matter – it's possible to 3D print in sizes up to 2100 x 700 x 800mm!
Read more about this project on our blog.
Light, Darkness and the Tree by Se Yoon Park
"While I work with traditional casting and fabrication methods, I am thankful for the contributions 3D printing has made to my design and process, and believe the combination of these methods is the way forward. Through 3D printing, I was able to manifest my ideas tangibly, and i.materialise has aided me on my journey to capture light and darkness."
Korean architect Se Yoon Park created a stunning art installation made up of 3D-printed trees. The sculptures imitate the organic structure of trees and consist of many small geometric elements. Se Yoon chose Polyamide (SLS) for its strength, lightness, and porosity, and also gave him the flexibility of dyeing the pieces to explore a variety of artistic surface treatments.
Discover his story!
Gyre by Charles-Eric Gogny
"Parkinson's disease hardly allows me to draw freely, nor model clay, plaster or wax. Fortunately, I can still handle the mouse. Today, with 3D printing, I find pleasure in presenting my "views of the mind" in tangible sculptures! And even better, to concretize shapes that I could not have realized or even imagined before!"
The 3D-printed sculptures by professional French sculptor Charles-Eric Gogny aren't just amazing representations of the universe and existence, but testify how an artist can continuously evolve his techniques and find a way to keep creating in the face of adversity.
Find more about Charles-Eric's chimeric sculptures in Bronze and Polyamide (SLS) in this interview with the 3D printing artist.
Still Life with Easel and Sculpture Table by Koenraad Van Daele
"Digital 3D design has no scale and on the screen there is no gravity. A standing figure with no support falls over but with a hole, it becomes a pendant. A large print of a bracelet can become a sculpture. It's a playground!"
Belgian 3D artist Koenraad Van Daele gets his inspiration from objects which can be found in an artist's studio, such as chisels, hammers, an easel, the model, a drawing etc. He loves experimenting with different materials, such as Mammoth Resin, Polyamide (SLS) and Alumide.
Read more about Van Daele's 3D-printed work in this interview and discover his diverse 3D printed creations, from big sculptures to fascinating pieces of jewelry.
White Rabbit by Danny van Ryswyk
"Half a year ago, I started using 3D printing technology. I create my sculptures in Zbrush, a 3D software specifically used for high-poly sculpting. As an artist, high poly sculpting software allows me to work with digital objects as if they were made of clay, and to sculpt with utmost attention to detail. This gives me unlimited freedom to create whatever I have in mind."
Acclaimed Amsterdam-based digital painter and sculptor Danny van Ryswyk creates surreal, paranormal sculptures in Polyamide (SLS), which he then paints by hand. His sculptures combine childlike fantasy with the macabre world of nightmares. Read all about his artistic process!
Gathering by Eric van Straaten
"I like art in which the technique is a non-invasive accessory to the impression an artwork has on the viewer. I want the viewer to relate to the scenery, and not to the material. Because of the combination of the soft, porcelain-like quality of the material and the life-like impression it gives, multicolor is perfect for this."
Dutch artist Eric van Straaten has pushed the boundaries of Multicolor 3D printing like no-one else, exploring themes such as innocence, beauty and darkness with his highly detailed sculptures of animals and young girls. Discover the creative process behind his work in this interview!
YARONULK by Nick Ervinck
"I make sculptures that are on the edge of the physical and digital realm in terms of sculpture and architecture. The art of sculpting has evolved through history with the help of technology. Because architects design mainly with computers now, a new type of language is created. In light of this, I see this new world of architecture as a precursor for what will happen in the world of art and sculpture."
Nick Ervinck uses a combination of traditional modeling and 3D printing to create his abstract sculptures, united by a signature yellow shade. Read more about his sculpture YARONULK, based on the Koekelberg Basilica in Brussels, Belgium, on our blog.
Tomato Paint Soup by Emanuele Niri
Italian designer Emanuele Niri was surprised to find out he won our Andy Warhol Design Challenge with his very first 3D print ever! Using Mammoth Resin to 3D print his model, he managed to create a stunning, gravity-defying sculpture which echoes Andy Warhol while still remaining fresh and original. Check out the other sculptures in the competition!
Upload your designs to our online platform and choose from over 100 different materials and finishes to get an instant price quote. Spread the love about the gadgets you're designing with us by posting on our forum, or tagging us with #imaterialise on social media
.
Recommended Articles