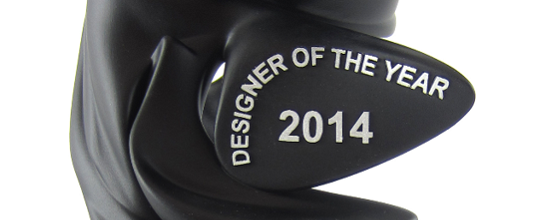 New Trophy Revealed – Who Will Be the 2014 i.materialise Designer of the Year?
by Fabian | January 19, 2015
For the second year, i.materialise will hand out a Designer of the Year Award to a deserving designer from all of the outstanding and creative submissions received in 2014. The jury has picked three nominees known for their talent and creativity and will soon decide which designer will receive the coveted 2014 trophy.

Every day we are overwhelmed by the amazing designs and creative projects that get uploaded to our website. To celebrate the dedication, creativity and trust of our 3D Printing community, we decided to introduce a "Designer of the Year Award" for outstanding designers in 2013. During 2014, we kept a close eye out for the most inspirational designers, makers or hobbyists and challenged you to submit your best projects for this annual event.
As expected, it is going to be a tight competition and we look forward to announcing our three nominees on our blog soon. One of these three nominees will ultimately receive the title of "Designer of the Year 2014" and get hold of the new trophy that was exclusively designed by AmniosyA, winners of the 2013 competition.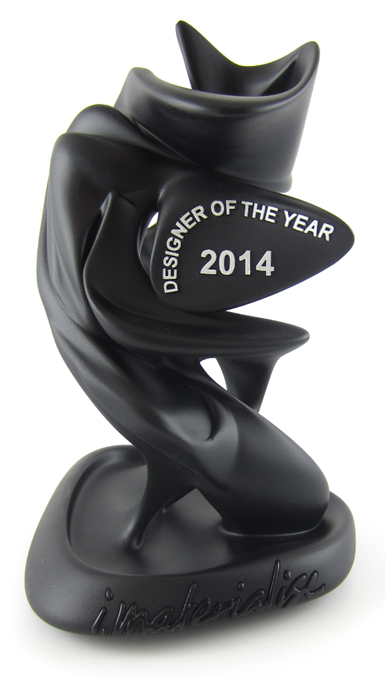 Designer of the Year 2014 trophy designed by AmiosyA
The jury that will decide upon the new winner is composed of Joris Debo, creative director of Materialise; Jesse Harrington Au, Maker Advocate at Autodesk; as well as the i.materialise Team. In addition to the 3D Printed trophy, the winner will receive a special price package including a gift voucher for our 3D printing service – of course the 2nd and 3rd place will also be rewarded.
Nominees:
1st nominee: Adrian Gögl. Read our blog post about him and his designs here.

2nd nominee: Danny van Ryswyk. Read our blog post about him and his designs here.
3rd nominee: will be announced on February 2nd.
Stay tuned for our upcoming announcement of the third nominee and the final winner here on our blog. Do you already have an idea who might be the winner? Leave your guess in the comments section below!