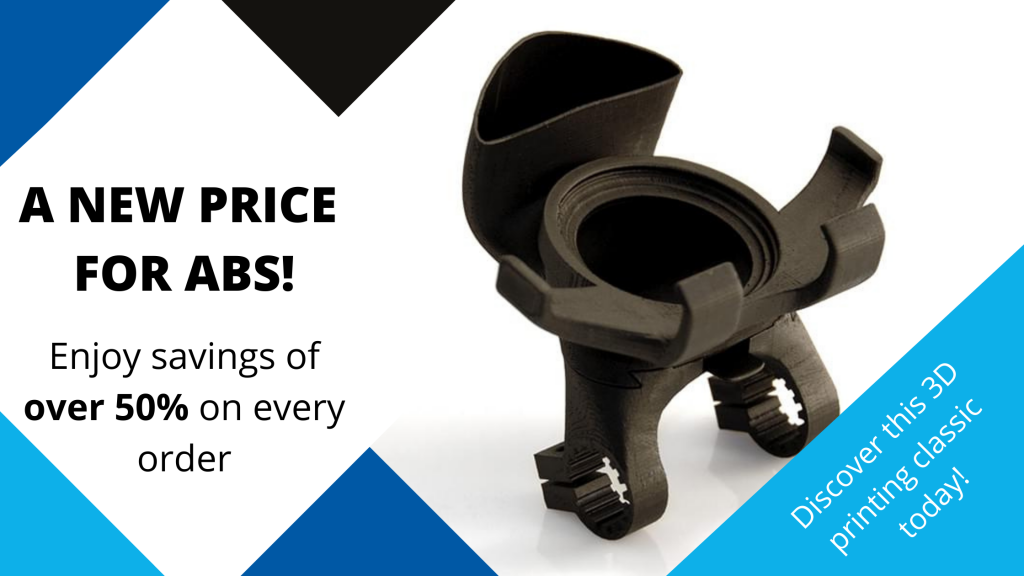 ABS: Save Over 50% On This 3D Printing Classic
by Jon Cooper | July 22, 2021
When you think of fused deposition modeling, your mind might jump to materials like ABS – this plastic is well-known in 3D printing crowds, after all. With an attractive new price to add to the list of reasons to love it, there's never been a better time to try it for yourself.
Whether you're an i.materialise veteran or thinking of starting your first-ever 3D printing project, we've got some exciting news that's sure to be right up your alley. On July 22, 2021, we introduced a new price for ABS that will see you save more than 50% on every piece you print, depending on the size and shape of your model.
It's a great opportunity for us to empower you to bring your projects to life and to share the joy of 3D printing with more people than ever before. But why should you choose it? Let's take a look at just some of the reasons this material has stood the test of time that we think will inspire you to try it for yourself.
The benefits of ABS
ABS (short for acrylonitrile butadiene styrene) is a type of thermoplastic most often used in the injection molding industry, but many of us are more familiar with it through Fused Deposition Modeling (FDM). If you've invested in a small 3D printer for your home or office, for example, chances are you've used it. The main reason for that is the comparative quality between technologies – printed ABS matches about 80% of the strength of injected ABS, for example.
Because of that strength, this material is a great choice for functional applications. Those creating electronic housings, automotive housing, or even LEGO bricks will find it particularly appealing, as long as the surface texture isn't a priority – it can be slightly rough to the touch compared to other materials. However, that downside is comfortably compensated by the accuracy you'll enjoy, while an intermediate level of printed detail allows for some freedom in design and decoration.
Other characteristics enhance this design freedom further. Because the support material used for ABS is water-soluble, it's possible to print complex geometries like interlocking and moving parts. For the creatives out there, this is a valuable benefit, offering another level of functionality to whatever you print.
ABS is also water permeable and UV-resistant, should either quality be important to whichever project you tackle next.
What is Fused Deposition Modeling?
As we mentioned, ABS is most commonly used with Fused Deposition Modeling (FDM). But what exactly is it?
In short, FDM is a filament-based 3D printing technology where a temperature-controlled head extrudes a thermoplastic material layer by layer onto a build platform. The principle is simple and can be compared to that of a glue gun, where the stick of glue is heated up until it melts and is then pushed through a fine nozzle at the front of the glue gun.
Much like home printers, i.materialise uses this technology for projects that print with ABS. But what sets us apart? Aside from the years of experience that we can use to assist you, our commercial-grade machines provide finer detail, larger prints, and better quality than those you'll find in your living room. You can also rest easy knowing that we'll be standing by with a watchful eye, making sure every project is designed and printed correctly.

A little inspiration
If you're still on the hunt for some more advice or inspiration, make sure to check out our official i.materialise forum or design guides, or download our new Beginner's Guide.