New SketchUp 3D Printing Plugin & Cheap 3D Printing Tip
by Joris | November 23, 2010
Make 3D printing your SketchUp models easier: here is the i.materialise 3D printing plugin you've been waiting for. As the for the cheapest 3D printing in the world? I'll qualify and explain that statement below. The process of going from SketchUp model to 3D print can be a complex one. Architects, students and people renovating there homes are using this tool to make it easier for them to 3D print their architectural designs. We'd love to get feedback from you on what you like (or dislike) about our newest plug in so we can make it better. We think this is the easiest way to take a SketchUp design and get it 3D printed, but we want to improve it even more.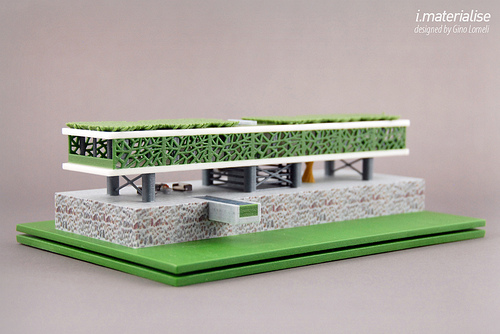 3D Printing Plugin for SketchUp
Once you do upload using the plugin you will have access not only to i.materialise's high quality but also to the least expensive 3D printing in the world. Over the past two decades our company has delivered high value 3D printing services to the business world. With our relentless focus on quality, our considerable investments in our own machines and people we did not expect that i.materialise would be the cheapest out there. Indeed our focus still lies on making sure i.materialise is the easiest service to upload to and investing in staff so we know that every broken model you may send to us gets repaired for you right away. We are therefore happy that for some things we are the cheapest 3D printing service in the world. Let's take a look at this:
The Cheapest 3D Print for Architectural Models
We should be the cheapest for large models and large orders. But, with a lot of things it is difficult for people to compare us because everyone uses different pricing models. With regards to these architectural models for example we can however state that (as far as we know) we are the cheapest in the world.
For the architectural models we use Zcorp and you can choose from three different sizes with set prices. The smallest size is 9 x 5.9 x 5.9 inch (23 x 15 x 15 cm) in full color for $400 (297 Euro). For that amount you could fill up the entire 23 by 15 by 15 cm volume with your house design. Depending on where you live shipping and VAT (sales tax) may or be added.
On Ponoko the same 3D print would cost you $4140, on Shapeways it would be  $5124.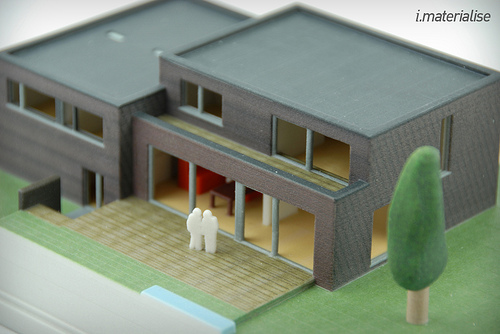 The second size is 12.6 x 9 x 8.5 inch (32 x 23 x 18.5 cm). This in full color will cost you  $672 (499 Euro) on i.materialise.  The same model in exactly the same material would be $13481 on Shapeways and $10783 on Ponoko . These enormous differences show you that it probably is a good idea to upload your designs to all three services to see which one is cheapest for you.
The third size is 320 x 230 x 150 mm and this would cost $798 (594 Euro) on i.materialise. We tried our best to listen to you on how to improve our plug in and hope that you guys continue to enjoy using it. We also love to see people's homes come by on the production line so hope even more of you will now use the opportunity to 3D print your dream home.
How to 3D Print a SketchUp 3D Model
To profit from our prices and quality, simply use the SketchUp plugin or upload your model here. You can then choose from 100+ materials & finishes including architect's favorites such as multicolor, prime gray, and polyamide. If you need help to prepare your SketchUp 3D model for 3D printing, this blog post has all the information you need.