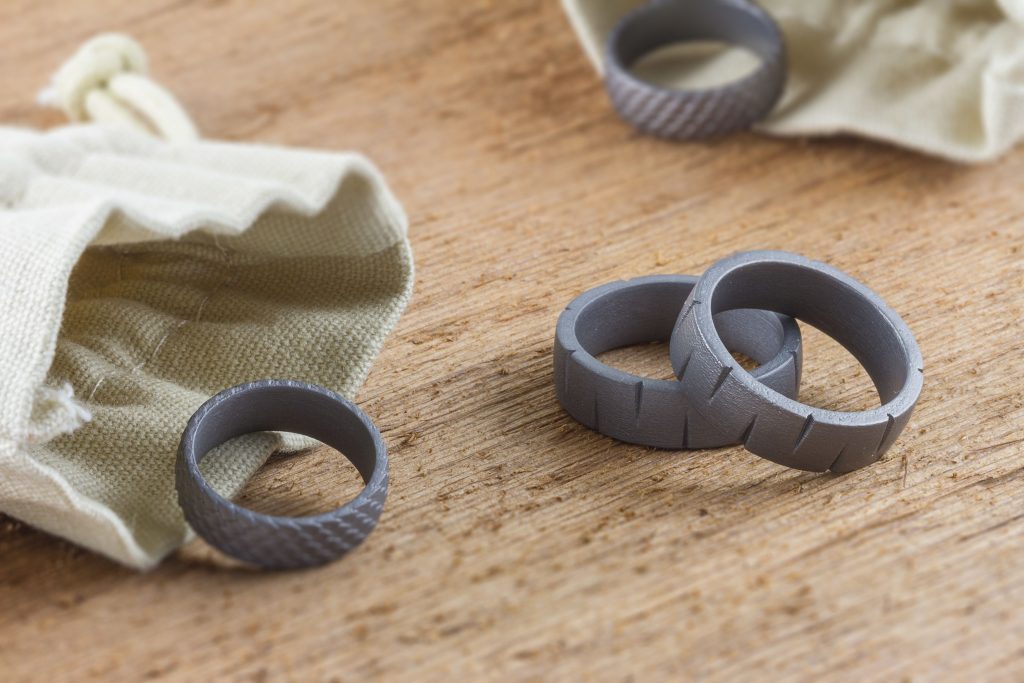 Meet our New Finishes for Titanium 3D Printing
by Aura | June 21, 2018
3D printing in metal opens a world of possibilities for designers and makers. We've already talked about the different metal materials on the blog and today we are happy to announce the launch of new finishes for 3D printing in titanium.
Discover our selection of 3D-printed metal with more possibilities than ever!
Matte or satin finishes for your titanium 3D prints
From now on, you can have your titanium 3D prints in two different finishes, depending on what you prefer.
Titanium 3D prints with a matte finish look less shiny than traditional milled titanium. If you decide to give your titanium 3D print a matte finish, it will be slightly gray, with a rough and less defined surface.
This finish is the same as the finish previously known as "Natural (Unpolished)".
If you would like a shinier finish for your titanium 3D prints, our new satin finish is your go-to option! Thanks to a blasting process, your 3D prints will have a slightly reflective quality.
Which one will you choose?
3D-printed titanium, the material
This 3D-printed metal is lightweight but strong, and is even corrosion-resistant! Titanium prints are as good as machined models and can be used to create parts, cases and also jewelry.
Read more about this metal for 3D printing on the website and find all the related technical information and design guides on the material page to get the perfect 3D print.
Direct Metal Laser Sintering (DMLS) – Technology
The technology to 3D print in titanium is called Direct Metal Laser Sintering (DMLS). This is a laser-based technology that uses powdered metals. A high-powered laser selectively binds together particles on the powder bed while the machine distributes even layers of metallic powder.
Support structures are generated automatically, built simultaneously in the same material and later removed manually. Once complete, the part undergoes a heat treatment.
How to get the perfect titanium 3D print
Learning about 3D printing and technologies is the best way to design the perfect 3D print. These are the most important things to keep in mind to get the perfect 3D print in titanium.
The minimum wall thickness for titanium is 0.5mm for small surfaces or features up to 15x15mm. For larger sections, you should increase the wall thickness to at least 1mm.
3D printing titanium in Direct Metal Laser Sintering allows for very small levels of detail. This means that you can have details as small as 0.25mm.
Organic shapes look better in titanium than angular shapes and straight lines. Angles of more than 40° will have a better, smoother surface than the angles that measure less than that.
Overhanging structures can also have poor surface quality, so it is also better to avoid them when designing for 3D printing in titanium.
DMLS is the metal 3D printing process with the highest dimensional accuracy. This doesn't relate to the level of detail of your model but to its deviation from the nominal size. Read more about this topic in our design guide for 3D printing in titanium.
Direct Metal Laser Sintering begins with a bed of titanium powder, which is then sintered by a laser. Support structures are also 3D-printed in titanium. Support structures keep your model rigid during printing and prevent internal stresses and deformations. Afterwards, the support is removed manually.
Engraved text and surface details
For engraved text or surface details, we recommend letters with a minimum line thickness of 0.4 mm, a minimum overall height of 0.4 mm, and a minimum depth of 0.15 mm. For embossed text or surface details, we recommend letters to have a line thickness of at least 0.4 mm, an overall height of at least 0.4 mm, and a depth of at least 0.15 mm.
To learn more about 3D printing in titanium we recommend you to read the design guides carefully before starting your design and uploading it to our online platform for 3D printing.
Titanium is a great material to 3D print jewelry. Discover more about the tribal pieces made by the Danish brand Primal Crafts, featured on this article.
Learn more about the metals that we offer and the 3D printing technologies that make 3D prints in metal possible.