Naim Josefi"s Melonia shoe nominated for a Brit Insurance Design Award
by Joris | February 17, 2011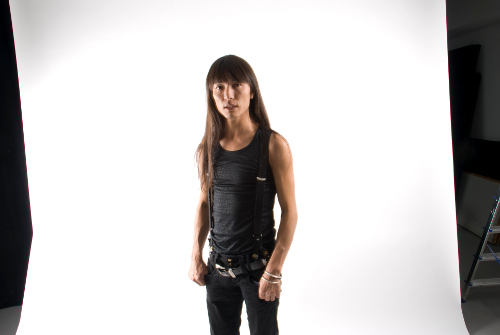 Naim Josefi"s 3D printed Melonia shoe has been nominated for a Brit Insurance Design Award. This is one of the most prestigious awards in design and we are proud that this shoe was made by our company. We interviewed designer Naim Josefi to discover how the Melonia was made.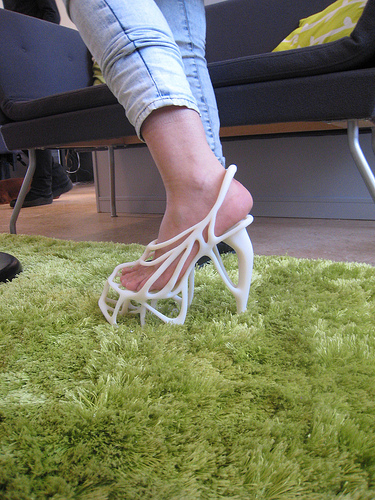 Why did you make your Melonia shoes? I designed the melonia shoe to show my view of the future, a better,made to measure, easier and more sustainable design with a touch of love. 
With whom did you collaborate with on the project? I worked with Souzan Yusouf, studying at Konstfack University of art and craft , to become an Industrial designer.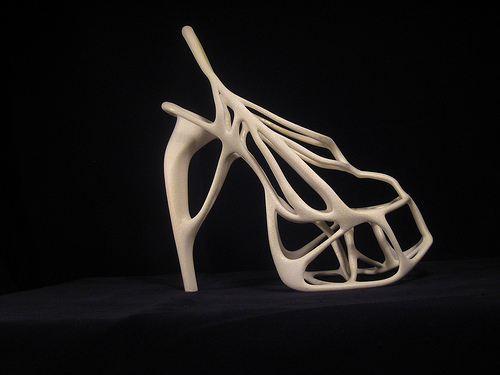 How did you make them? I left my design sketch of the melonia shoe to Souzan, which she formed in the 3-d modelling software Rhino. 
Are they currently for sale? Yes they are for sale, but I will when time is given produce the melonia shoe for stores. 
Are they comfortable? They are relatively comfortable, but they are not made for a stroll in town for a whole day. Although they will be and are able to be an extremely comfortable shoe because of the made to measure scanning process.  
Why did you choose to make them using 3D printing? I made them in 3-d because of the opportunity that 3d printing enables, you would not be able to make this type of design in any other kinds of techniques.  The secondary reason was my futuristic concept for the Melonia catwalk, a scent of the future in which futuristic techniques was the only right way to go hence the 3-d technique.
This is a video of the Melonia 3D printed custom shoe.
You can see the Melonia shoe and the other nominees at the Design Museum in London until the 7th of August. The Brit Insurance Design Awards overall winner will be announced on the 15th of March. Fingers crossed!