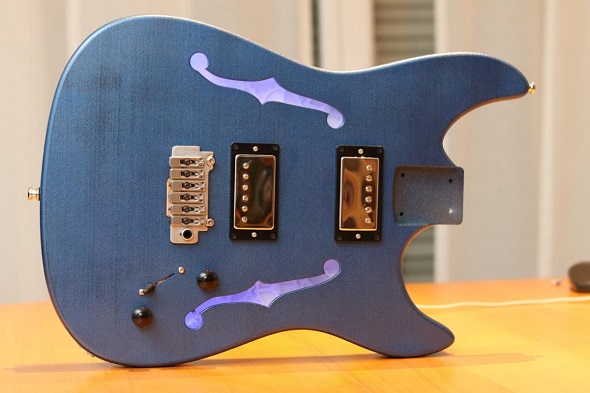 5 3D Prints That Will Strike A Chord With You
by Maddie | August 17, 2020
This time of year is typically a popular season for outdoor music concerts, but since most festivals are not running like usual this year due to COVID-19, we're instead placing a focus on music by sharing various musical innovations made possible by 3D printing.
3D printing has introduced new possibilities in industries ranging from jewelry to airplanes, so it makes perfect sense that music lovers also wanted to benefit from the technology. The possibilities of adding unique geometries or customizing make 3D printing an attractive technology to create products in a totally new way.
Let's take a look at five different prints that took advantage of 3D printing's benefits to bring the music industry to a crescendo.
Salvatore Capuano, a fan of music and engineering, decided to give 3D printing a shot in order to test his design skills and create a guitar that required very few post-processing steps. The result was an electric guitar with spinning gears printed within — a feat only possible with 3D printing. Otherwise, traditional manufacturing would have required the production of separate parts that were later assembled. By 3D printing this part with Polyamide, it took Salvatore only one hour to complete the final assembly of the guitar body.
Even as a 3D printing beginner, Salvatore's final guitar was a great success with the finish and sound that he had hoped for.
Another musical instrument 3D printing enthusiasts have tackled with the technology is the jazzy saxophone. Odisei Music turned to 3D printing technology to create a lightweight, intricate, travel-sized saxophone that encourages music lovers to practice anytime anywhere.
The Travel Sax is not only the smallest and lightest 3D-printed saxophone, but it's also electronic. In order to play, the musician simply adds a standard saxophone mouthpiece and connects the instrument to their smartphone or PC. From there, they can put on headphones and practice their skills without disturbing others.
Another major advantage of 3D printing is the opportunity to personalize products. This is why LOCONOISE founder Jose Cunyat decided to work with 3D printing to provide music lovers with customization options for their music accessories.
He loved the performance of the Sennheiser HD25 headphones but wanted to find a way to make the headset more personal. Because of the freedom of design enabled by 3D printing, Jose can offer a wide variety of shapes, colors, logos, and technical features for users to configure.
Another case of using 3D printing to customize a musical instrument is with 3Dvarius's beautiful 3D-printed electric violin. The body of this instrument is printed in one piece with the possibility for customers to personalize the text on the body, choose their favorite tuning pegs, or even base the entire design off of their favorite classical violin.
3D printing not only enables customization, but it can also create a simple design with optimized weight distribution to make playing this violin as comfortable as possible. Violinists experience perfectly accurate audio with this advanced technology and can even transform the sound with special digital effects.
Playing music is a truly meaningful aspect of many people's lives. This is why William Aquite and Kim Yeaji, then students at the University of Wisconsin at Madison, decided to make a difference with 3D printing by improving the process of reading sheet music for people with visual impairments.
They noticed that although the braille system is traditionally used to do so, it isn't as easy to understand all of the musical details. They chose 3D printing to create a raised music sheet that musicians could read by simply touching it. 3D printing made this amazing invention possible by quickly printing complex geometries based on the digital file.
Make a musical 3D-printed masterpiece of your own! Upload your model today to get started.
Subscribe to our newsletter to get all of our 3D printing news straight to your inbox.