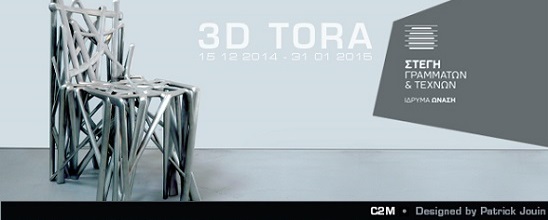 .MGX to be on Display at the First Major 3D Printing Exhibition in Athens
by Yui Takahara | December 15, 2014
Good news for 3D Printing fans in Greece: some of the best 3D Printed items from the .MGX collection will be on display at 3D Tora, the first major exhibition in Greece dedicated entirely to 3D Printing. The exhibition will be held from December 15, 2014 until January 31, 2015, at the Onassis Cultural Center in Athens. If you're visiting Greece for your Christmas holidays, you'll want to add this exhibition to your must-see list!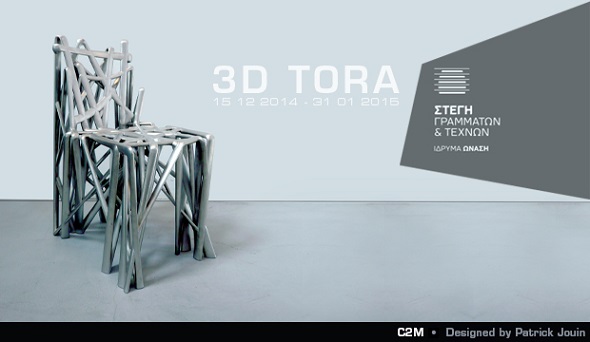 This exhibition, "3D Tora", illustrates the versatility of 3D Printing by showcasing more than one hundred 3D Printed pieces from various fields including art, architecture, fashion, science and product design. Visitors can discover how "3D Printing, of everything from houses to hearts and pretty much all you can imagine in-between, is the coming revolution."
From the .MGX line, Fractal.MGX by WertelOberfell and the C2M chair by Good Design Award winner Patrick Jouin will be presented as cutting-edge examples of product design that maximize the uniqueness of 3D Printing technologies. Danny van Ryswyk's White Rabbit will also be a part of the exhibition, showcasing new possibilities for art created through 3D Printing.
3D Tora will be the first public showing of Fractal.MGX in Greece, but this coffee table – inspired by the fractal growth patterns of trees ­– has been already been displayed in other esteemed international museums such as the Victoria & Albert Museum in London, the Metropolitan Museum of Art in New York and the Design Museum of Barcelona. To find the nearest museum where other .MGX items are displayed, check out the list on our blog.
But don't forget that many other fabulous .MGX lamps and fashion items can be found in our Boutique! The .MGX Boutique is a marketplace where you can browse and purchase premium 3D Printed products designed by renowned designers including both WertelOberfell and Patrick Jouin.
Want to display some .MGX items at your next art show? Let us know at info @ mgxbymaterialise.com!