Building A 3D Printing Jewelery Brand: We visited Monomer
by Tatiana | November 1, 2012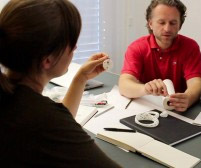 What started as a coincidental meeting through shared friends, grew into a very strong German brand that's synonymous with unique 3D printed jewellery design. We met up with Thomas Mrokon from monomer.
How did you get started with 3D printing?
«Well, it's hard to put an actual date on the start. It was a long process to create and define monomer as it is today. I think the best way to describe us is to look at it as a some kind of fateful symbiosis of two persons interested in rapid prototyping (3D printing). Both experimented with this new technology, but they did not know each other at the beginning. Antje studied Design at the Academy of Arts in Stuttgart and I studied Architecture at the Technical University of Darmstadt. It was 2005 when Antje started her studies and had the idea of a parametrical necklace manufactured with the technique of rapid prototyping. But at that time there were only few persons who had experience with this technology and parametrical modelling. It was destiny that Antje had a girlfriend studying Architecture in Darmstadt who brought us in touch.»
How the 3D Printing Jewelery Brand Grew
«Since our first contact we have worked together on different design projects. After her graduation Antje started working for Niessing (famous German jewelry company) and got the opportunity to develop the prototype of the parametric necklace one step further. I joined this project as well and Antje's necklace called 'Polymer' won the red dot award – the best of the best.
For about 6 months we started to spread our designs to different design blogs. We tried to place our products in different shops and we infiltrate our friends with some samples. It is a hard way when you don´t have the budget to make big advertising.
The name monomer was a sudden inspiration, any similarities to common projects are mere chance. We wanted a name, which sounds emotional and has this implicit meaning of a unique piece. And monomer fits perfect. The exact Greek translation means 'single piece'. It is usually used in chemistry to describe single molecular systems. But it is also a nice metaphor for many rapid-prototyping techniques, where single particles of powder were glued or melted together to form one unique piece.»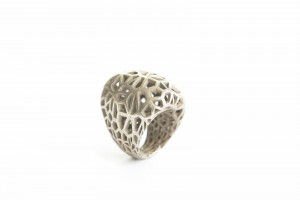 How would you describe your style?
«Our style is mainly influenced by two guidelines. On the one hand we try to exhaust the technological benefits of rapid prototyping and on the other hand we like designs which are fascinating because of their form and details (which you don't see at the first side). A simple idea with that portion of finesse which makes it timeless. Our inspiration comes either from a personal idea or from a brainstorm. The combination of a designer and an architect is a very fertile source for new ideas, because we are thinking in different dimensions and backgrounds.»
When did you start 3D printing your collection?
«I am experimenting with rapid prototyping since 2003 and have tested different technologies and printing services. Euromold in Frankfurt is the best place to get in touch with the latest rapid prototyping techniques.»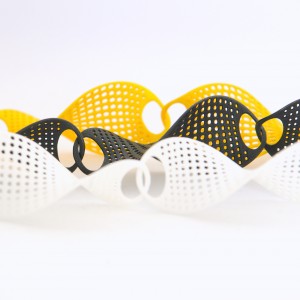 Did 3D printing change your view on design jewelry?
«Yes, indeed. As I already mentioned monomer tries to use the new possibilities of 3D printing. Ideas are only limited by your imagination and nearly everything you can draw or model can be materialised. Depending on the process and the material, you have few limitations when designing objects. It is mainly about support structures and wall thickness.»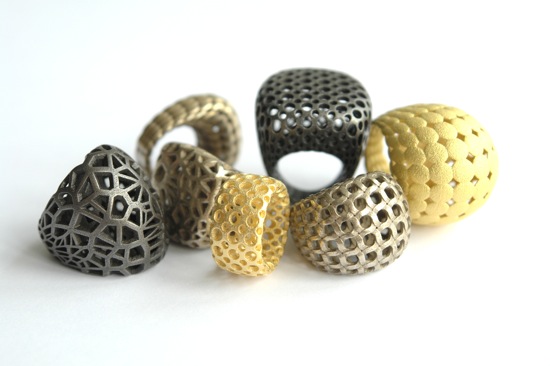 3D prints in metal. The details look stunning!
What 3D printing materials do you like most?
«Polyamide is our best friend. It is very detailed, needs no additional support and can be easily tinted in different colors. At the moment we are making a lot of prototypes in sterling silver and brass, because the polished surface looks beautiful for jewelry and the contrast in our two-layer collection between a polished outer surface and a matt inner surface is fascinating. But who knows what we'll work with in the future…»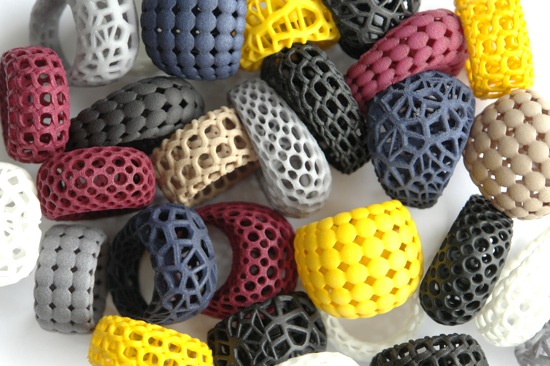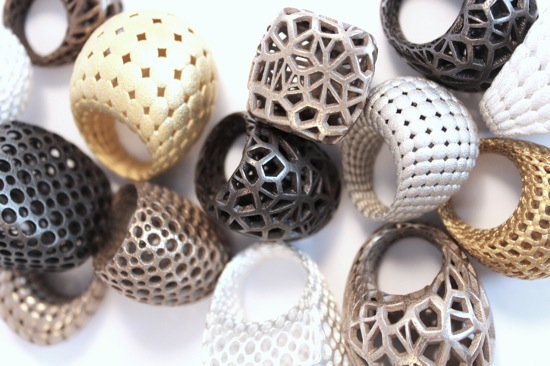 Do you want to print your own designs as well? With our online 3D printing service you can print your 3D model in real 14k and 18k gold, sterling silver, brass, bronze, steel, copper, or titanium. Click here to learn more about the materials that we offer and upload your design here to see the price of your 3D print instantly.