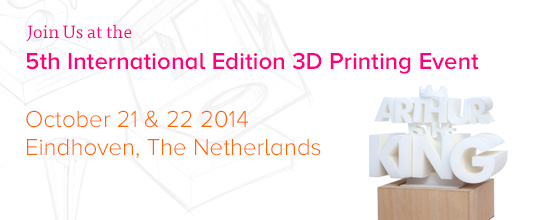 Join Us for the 3D Printing Event at the 2014 Dutch Design Week
by Billy | October 16, 2014
It's been a great year for 3D Printing shows for i.materialise. Time spent at the Maker Faire in San Mateo, a trip to the World Maker Faire New York, a stop at the 3D Printshow in London, with a brief layover at the Maker Faire Detroit. As we move into the last few months we have the pleasure of attending the 5th  International Edition 3D Printing Event. This year's event returns to Eindhoven, The Netherlands on October 21-22 2014 at Seats2Meet.  For those playing Trivial Pursuit, Eindhoven is the 5th largest city of the Netherlands and was named the world's most intelligent community in 2011.
The 3D Printing Event is one of many things happening during the month of October 18-16 in Eindhoven. Dutch Design Week is in full swing during the event with over 80 locations and 400 events. We're a bit partial to the type of event you should attend. We'll even give you 2 guesses. Now on to the show!
"I've seen the future…. I've been in Eindhoven for Dutch Design Week for the past few days and the energy, creativity and imagination I've come across has been a revelation."

– Marcus Fairs, Dezeen. October 24. 2013.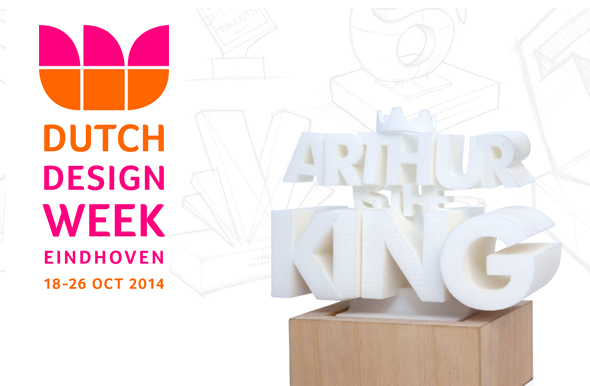 Important Facts about the 3D Printing Event
What:  5th International Edition 3D Printing Event
When:  October 21 & 22 2014
Where:  Eindhoven, The Netherlands
Schedule:  Seminar Program
Going beyond 3D Printers, this 2 day seminar is meant to help attendees navigate through the business of 3D Printing, the technical issues, and the challenges that come with it.
In addition to a master class in Design for Additive Manufacturing, the 3D Printing Event will include 3half days seminars:
Our own Sam Vandormael, Business Development Manager at i.materialise, will be presenting "Viable Business Models for Consumer-Oriented 3D Printed Objects".
As an added bonus, the i.materialise outreach team will join exhibitors Fablab Enschede, Opiliones, Makerpoint, and Doodle 3D, among others to make sure you get your fill of #makerselfies! The exhibition is free to attend.
As with anything, 3D Printing has its challenges. On October 21st, the 3D Printing Event turns its focus on the Challenges in Business, Regulation and Law. This afternoon program will focus on several hot button issues in the industry like Intellectual Property, privacy laws, regulations and so on.
Are you planning on attending? Tell us what you're most looking forward to in the comment section below.