Irresistible 3D printed products now for sale in the (New) i.materialise gallery
by Vanessa | July 18, 2011
Those with a weakness for buying beautiful objects should be afraid, be very afraid – i.materialise now has an online gallery of incredible 3D printed products that can be yours to own and enjoy. Because we'd like to open our store in style, we've filled the gallery up with awesome products from very talented designers, many of who you might already know thanks to our jewelry design challenge, the incredible reputations some of these designers already enjoy in the world of 3D printed design, or their presence on i.materialise's homepage.
For those who followed the i.materialise jewelry design challenge, you will already be familiar with many of the products now for sale, and perhaps already know exactly what you want to buy (I admit, I have had my eye on a couple of these for a while now). The winning ten designs are now part of the .MGX summer collection 2011, meaning that in addition to being available online, they will also be on sale in the .MGX Sablon Shop, the world's first shop dedicated exclusively to 3D printed design. Here are a couple examples (both of which are on my personal wish list. A strong hint to family and friends who are reading this blog while my birthday fast approaches):
Wavelet bracelet: Made by Igor Knezevic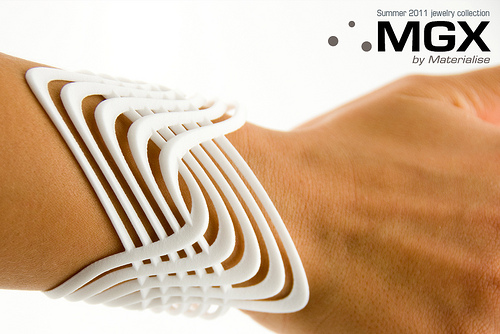 Stone: Made by Dario Scapitta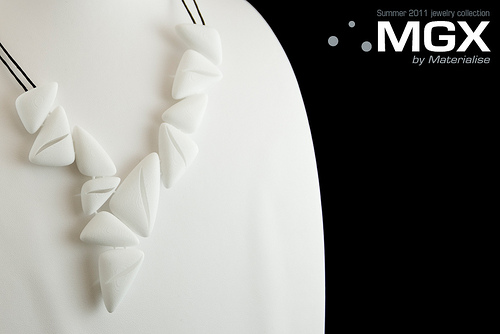 In addition to winning entries from the design challenge, you can now also purchase other irresistible examples of 3D printed jewelry from designers you may already know, including Karen Wuytens, Bathsheba Grossman, Michiel Cornelissen, and Dan Yeffet. We thought that these designs were too beautiful not to share, and once you see them, you will know why. I can tell you from experience, there are not many women in the office who have seen the Happy Bird earrings and not wanted a pair for themselves.
Happy bird earrings: Made by Michiel Cornelissen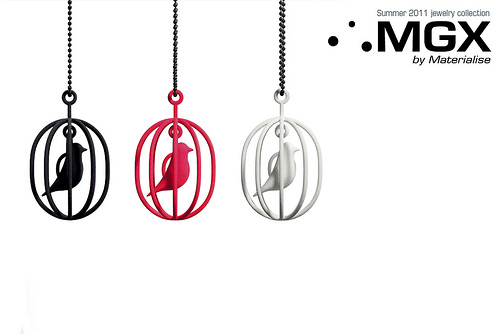 Rygo: Made by Bathsheba Grossman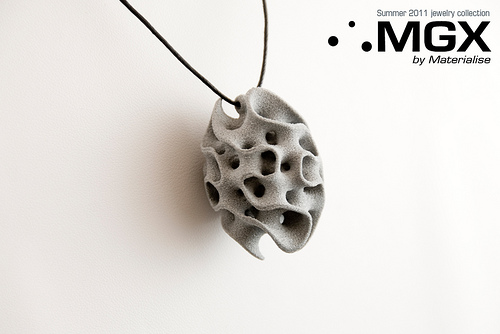 Finally, we have also included a number of lamps and other home decorations created by talented individuals who came to i.materialise in order to bring their designs to life. Who knows, perhaps the next design we invite to join this collection will be something created by you!
A maze light: Made by Oscar Rottink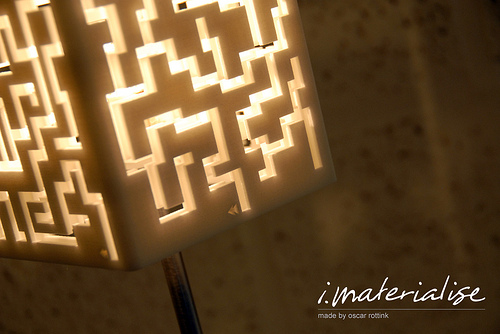 1000 et une fruits: Made by Mika Debruijn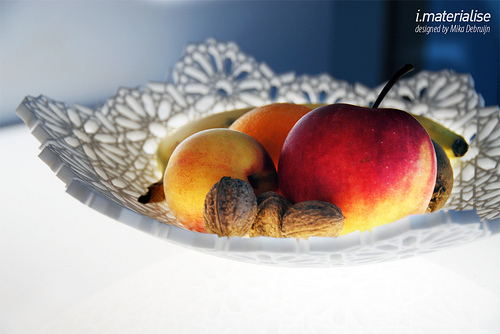 See all of these designs and more at http://i.materialise.com/gallery
***Those who follow this blog regularly are perhaps wondering who I am and why you see posts from me all of a sudden. Therefore, I will take a moment to introduce myself. My name is Vanessa (also known as @belgiancanuck on Twitter and as myself on Google +) and I am the official writer for i.materialise's parent company Materialise. I can usually be found running around the corporate headquarters gathering information for case studies, press releases, and application notes. Other times, I can be found staring at 3D printers while they are at work as this helps me sort out my thoughts. The rest of the time I spend at my desk staring at Tweetdeck, reading blogs, and of course, writing. As a tall, blond Canadian with a very loud, frequent laugh, it is never hard to find me when you visit the company. When I was asked to contribute a few entries for the i.materialise blog, I naturally jumped at the chance… so, here I am. It"s nice to meet you all!