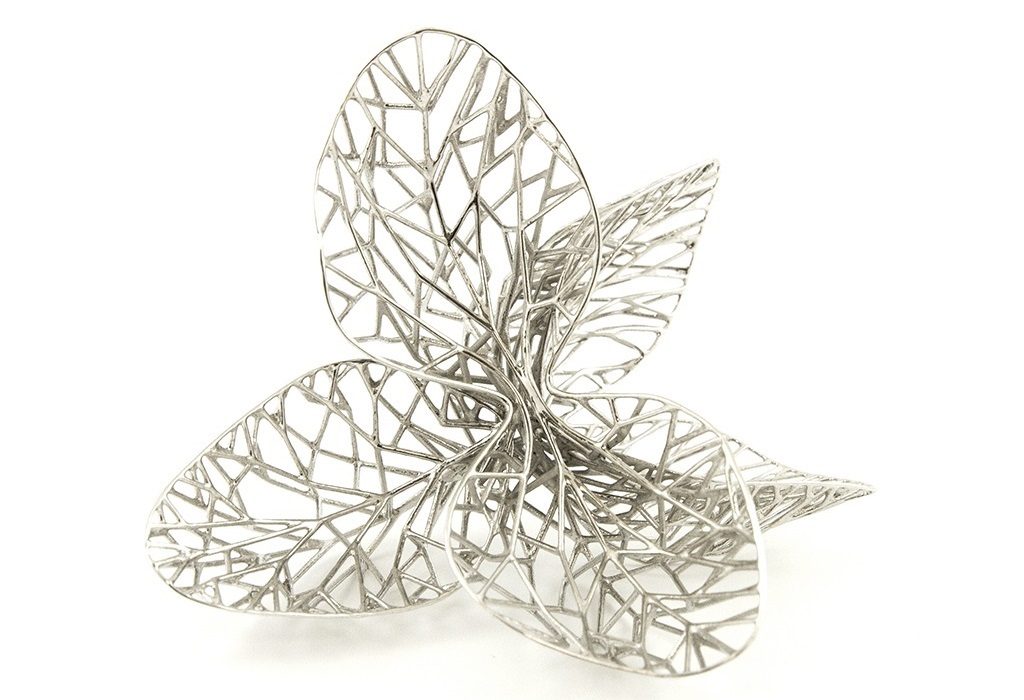 Affordable Luxury: Introducing 3D Printed Rhodium-Plated Brass
by Fabian | March 15, 2017
Today, online 3D printing service i.materialise is proud to reveal a new member of our growing family of over 100 different 3D printing materials and finishes. This time we are introducing a shiny new metal finish: rhodium-plated brass. Featuring a smooth, glossy surface and a great level of detail, this finish is what many jewelry designers have been waiting for.
The times when 3D printed jewelry sounded like an idea from a sci-fi movie are over. An increasing amount of jewelry designers are discovering the great potential and design freedom that 3D printing offers. i.materialise enables designers from all over the world to order 3D prints in metals such as bronze, silver, gold, or brass.
3D prints made out of rhodium-plated brass are constructed based on wax 3D printing and brass casting. This means that a wax 3D print of your model will be printed and used to create a mold. The wax will then be burned out of the mold and liquid brass will be poured into the cavities that are left behind. The brass item will then be electroplated with a thin rhodium layer.
While rhodium itself is actually one of the most expensive metals there is, at almost twice the price of platinum, we only apply a razor-thin electroplated rhodium layer to brass 3D prints. That's why rhodium-plating gives brass items a precious look while keeping the price of the jewelry down. Additionally, it increases the long-term durability and brightness of the item and is hypoallergenic. It's the perfect choice for jewelry designers interested in 3D printing!
Rhodium-plated brass items can be printed up to a size of 88 x 88 x 125 mm. This new finish will give your brass object a shiny, white, and precious-looking surface, which makes it a great and affordable alternative to high gloss silver items. The following image will give you a better idea about the slight color difference between rhodium-plated brass and high gloss silver.
Ready to try out this new finish yourself? Upload your 3D model, pick 'brass' and 'rhodium-plating' from the material menu and let us turn your jewelry design into 3D printed reality.