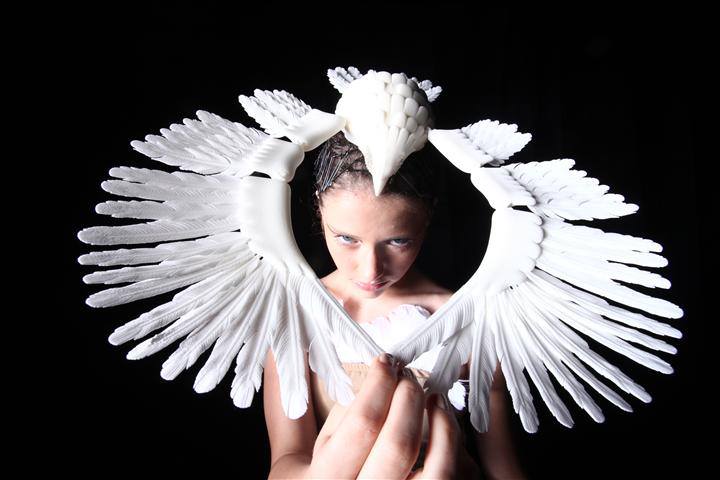 (i.)Materialise designers Melinda Looi, Isaie Bloch and Nick Ervinck in the running for the 3D Printshow awards
by Tatiana | October 9, 2013
Three (i.)Materialise designers are in the running for a 3D Printshow award: Melinda Looi (Fashion Designer of the Year), Isaie Bloch (Artist of the Year) and Nick Ervinck (Artist of the Year).
1. We introduced you to Malaysian Fashion Designer Melinda Looi in March through our Accessory Challenge. Teaming up with Materialise, this resulted in a spectacular marriage of technology and fashion and Asia's very first 3D printed fashion show ever. Melinda's most recent achievement is being selected as a Malaysian representative at World Fashion Week in Paris, with one of her couture pieces currently being showcased in fashion weeks around the globe as part of the build-up activities leading up to the actual event. You can vote for her here to become Fashion Designer of the Year.
2. Isaïe Bloch (Eragatory), a Belgian designer, 3D printed his sculpture 'Satire' through our service and this beautifully designed brass cutlery. About the sculpture: "I have set for myself the task of creating a new sculpture that is 'technically unachievable by artisanal methods' and 'more perfect' than the original Grecian Satyr bust – an icon of Roman and Greek sculpting." You can vote for him on this page.
3. Nick Ervinck is always looking for new techniques and challenges. As a sculptor, he has one foot firmly planted in the digital world. This means that he not only uses the computer as an instrument, but that digital logic largely determines his artistic thought and method. He is fascinated by the tension between tradition and innovation. When creating a work, he explores the possibilities between the organic and the digital, between the virtual and the physical. You can vote for him here.

Don't forget you can still enter to win the i.materialise 'Designer of the Year Award' and win some amazing prizes!