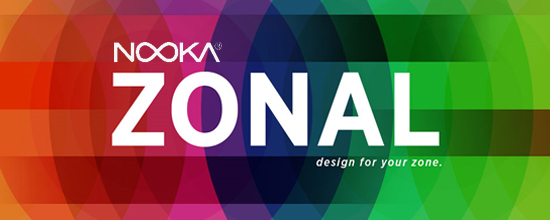 i.materialise and NOOKA Present 3D Printed Concept Pieces for "ZONAL"
by Yui Takahara | May 7, 2014
We are very excited to announce that i.materialise is collaborating with NOOKA, a NYC-based fashion design company, to 3D Print futuristic concept pieces for an exhibition entitled "ZONAL- Extending the Body and Mind." This project, inspired by Hindu vedic chakras, features eight international designers, each of whom presents one item that corresponds to a zone of human body. 3D Printed prototypes of the ZONAL pieces will be exhibited at the WantedDesign Show held in New York City from May 16 to 19.
NOOKA was founded by artist/designer Matthew Waldman. This "technoprogressive" design firm is best known for their unique timepiece designs and has expanded their product range to innovative accessories and a fragrance. Standing on the design statement "the future should not look like the past," NOOKA is committed to bringing the revolution of interface design to lifestyle.
But how best to realize NOOKA's experimental concept? 3D Printing of course! Matthew Waldman talks of the potential of 3D printing technology in the fashion industry:
"3D printing has so much potential to revolutionize the whole manufacturing and consumer landscape, and even bio-medical technology. NOOKA has some reach in the fashionista world that I felt I can do a small part in getting the excitement I have for 3D printing out to a wider audience." – Matthew Waldman
Led by Matthew Waldman and Marc Thorpe of Marc Thorpe Design, eight renowned designers including Luca Nichetto, Joe Doucet and Rem D. Koolhaas, contribute to this realization of the NOOKA design philosophy. Taking inspiration from the vedic chakras, a Hindu belief system of energy points in the subtle body, the ZONAL exhibition will feature seven body zones: Foundation, Locomotion, Creation, Core, Heart, Head, and Dream. So what can you expect to see at ZONAL? The following are some of the innovative pieces being showcased during this exhibit.
Highrise Shoes, by Dutch architect and United Nude designer Rem D. Koolhaas, do not at first appear to be a shoe. This product, representing the Foundation zone, is a play on the idea of architecture meeting fashion and scale, and indeed, the shoes raise the fundamental question of "what makes a shoe a shoe?"
Cosmic Messenger, designed by Luca Nichetto and Lera Moiseeva, lets you experience virtual space travel through a 360-degree camera showing the voyage of your voice sent into space. The message recorded and sent from this Cosmic Messenger travels into the future and becomes a part of infinity.
You can get to see many other inspiring Zonal items at WantedDesign held from May 16th to 19th. So mark your calendar now! We're looking forward to seeing you there.