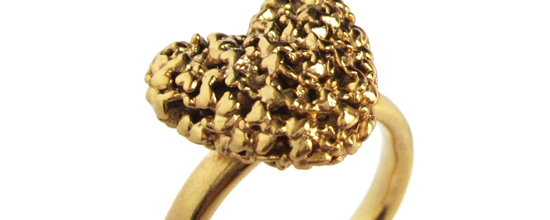 Get Ready for Valentine's Day
by Fabian | January 12, 2015
We hope you all had a great start to the New Year! We would like to thank you again for the trust that you have placed in us over the years and wish you and your family all the best. Let's keep the love in the air with this reminder that Valentine's Day is just around the corner.
Now could be a great time to surprise that special someone with a beautiful silver ring, a stylish smartphone gadget or an exclusive home decor item. As always, there are no limits to your creativity. Please take into account the following shipping dates so that your Valentine's Day turns out exactly the way it should.
Order in time for Valentine's Day
Order by 23:59 CET/17:59 EST on the following dates for shipment by February 13th:
26th of January for prints in Polyamide, Alumide, Rubber-like, Gray Resin, Transparent Resin, High Detail Resin, Mammoth Resin, and ABS
21th of January for prints in Multicolor, Silver, Brass, and Bronze
15th of January for prints in Ceramics, Titanium, Stainless Steel, High Detail Stainless Steel, and Gold
Please take into account duration of shipment which can vary per method and country of destination.
Don't forget, standard shipping is ALWAYS free on all orders above $129 or 99€. Below $129 or 99€, standard UPS shipping rates apply and will vary by country. Exact shipping rates are displayed on the shipping info page during checkout. Click here to upload your 3D model now.