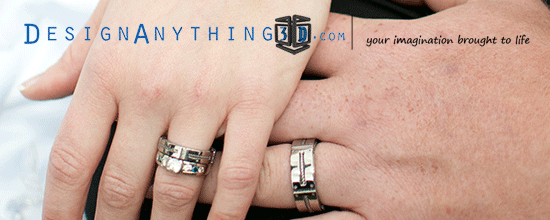 Designer Spotlight on Josh Azevedo: From Humble Beginnings to Running a Top 3D Design Business
by Billy | July 29, 2014
3D Business owner Josh Azevedo entered the world of 3D design by accident— or more specifically, by marriage.
Azevedo started as an animation graduate with an unsteady future, but now has his own 3D Design business: DesignAnything3D.com. He uses i.materialise to print orders, grow his business, and gain clients. Here is his success story.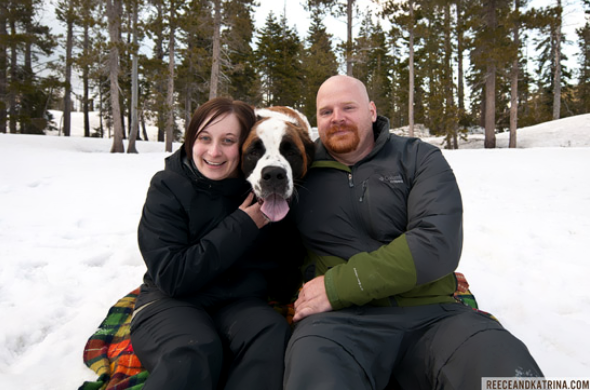 Right after earning an art school degree in animation, Josh realized that there were far more animators than available jobs. Despite this gut-wrenching setback, he was a fortunate man: his fiancée, Heather, not only agreed to marry him, but also to love and encourage his dreams. Together they became a team, toiling long hours to raise enough money for their upcoming wedding.
It was during this uphill struggle that his soon-to-be-wife proposed the idea that changed their lives forever:
Citing his wife as "the creative one," Josh glowingly recalls her idea to create custom wedding bands instead of paying for overpriced traditional designs. Privately, she also gushed at the thought of other custom-made wedding-related items: cake toppers, party favors, and gifts— all of which seemed too expensive to afford.
Ever the  pragmatic  romantic, Josh strove to make his wife's dreams come true.
With his background in animation, Azevedo realized that he could create these items using three-dimensional printing and software (such as the free software found here.)
His prior skills and training connected seamlessly with the technical and aesthetic demands of finely detailed, customized 3D prints.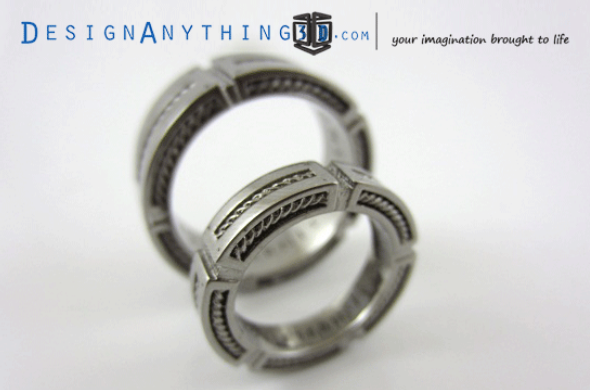 As the wedding band design finalized, Josh found i.materialise.
"The website was easy to work with, and the support I received was invaluable." He says, now the owner of his own business, DesignAnything3D.com.
Based in Portland, Oregon's foremost creative hub, Josh and his team now create custom figurines, corporate awards, custom jewelry, and "just about anything" clients can think of. From custom wedding cake toppers to corporate trophies, from high-detail 3D printed faces to painstakingly intricate jewelry— Josh strives to give his clients heirloom-quality prints, fast turn-around times, and reliable service.
And the Portland community has noticed!
DesignAnything3D's largest project to date was a 6 foot long mobile for a children's hospital.
Bright-eyed clients come to Josh referring to 3D printing as a futuristic "Star Trek" technology— and count on Josh to guide them toward affordable printing solutions.
"The biggest hurdle is educating clients that the smaller the details and resolution in their design, the greater the cost." Josh notes, emphasizing that he takes time to ensure his clients get the best resolution and print for their budget.
Josh also works closely with i.materialise to ensure his designs— from the largest statue to the tiniest cake topper— print perfectly. That way, clients are not billed for needless prints or left waiting on account of equipment failure.
3D printing not only allows for a creative outlet, but also serves as an economical way to slash the cost of replacement parts, sometimes up to 90%.  It saves companies time and money by letting producers hold a physical product in their hand before mass-producing it.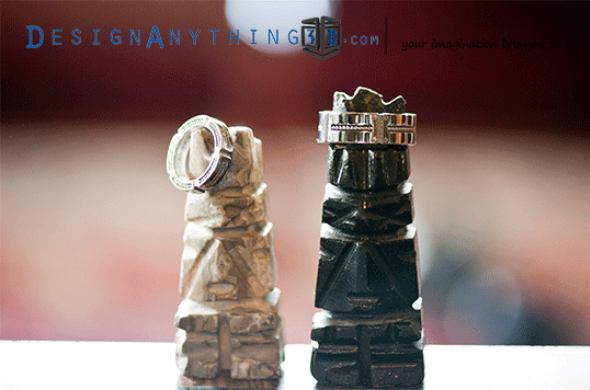 The future of 3D printing is unlimited, and Azevedo is positive three-dimensional printers will be staples in every household, right along with PC's and conventional printers.
"My grade school nephew has a 3D printer", says Azevedo. And with a baby on the way, he and his wife look forward to the promising future their child now has as a result of embracing this new technology.
Do you know a 3D designer we should feature? List them below in the comments, or contact us.