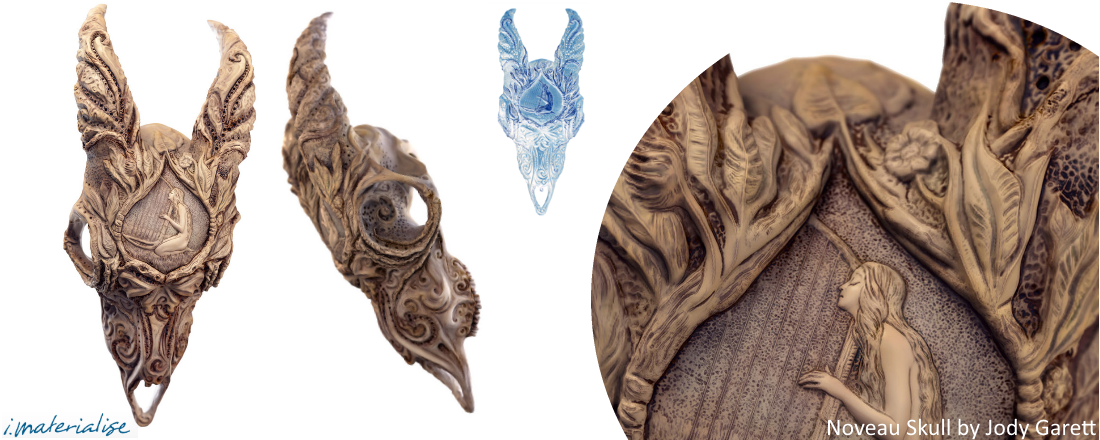 6 Best 3D Printed Fantasy Designs
by Roxy | August 18, 2014
The world of 3D printed fantasy design is unlike any other: it not only imagines another world, it makes it real! If you've ever struggled with symmetry, shaky hands, or poor eyesight, then designing and 3D printing your designs could give you abilities you never knew you had. Zooming can make up for blurry vision, symmetry options and "undo" buttons make up for unsteady hands,  and you can create or render nearly any lighting condition (including ones that cannot exist in the real world.)
Feeling inspired? There's free software here, if you scroll down. Now go check out the 6 most beautiful 3D print designs created by some of our favorite fantasy artists, along with tips about joint design, color 3D printing, and hand-painting your design!
#1 3D Printed Fantasy Design: Noveau Skull by Jody Garett
Isn't the level of detail in this work incredible? Jody Garrett created this on a digital CAD (Computer Assisted Design) software, printed it in prime gray material, and then hand-painted and finished it to create this nuanced, colored, and delicately shaded work of art. Incredible!
Why have a regular doorknob when you could have a dragon? 3D printed metals and plastics are very accurate, and ideal for  tightly fitted parts. Kai bracher created the Dragon Doorhandle, and shares the following tip for new designers:
"It's always good to make something hollow to save material and money. In case of the dragon it serves the additional purpose of making the eyes and the mouth a deeper black, which I find makes him more mysterious."
How cool would this custom door handle look in your very own custom dungeon or lair? Or… 3D printed house?
Making holes and cutouts in a hollow figure is one way to save money on your print. It's also a great way to create an eye-catching fantasy design! This immaculately detailed, patterned bird designed by Paris's very own  Linlin and Pierre-Yves Jacques  looks like it'd be right at home in an enchanted forest.
Unlike real-life carving, engraving and woodworking, 3D CAD software makes cutouts as easy marking a selection, and erasing it. This is especially handy for zombies or other creatures with exposed skeleton parts!
Adding to the dragons on this list, check out this flat-based dragon figurine designed by Marty Hon, and printed in white polyamide. Flat bases are a common feature for cake toppers, and a figure like this would look great printed in food-safe glazed white ceramics. It looks like cake frosting come to life!
Polyamide is a great material to print in because its slightly toothy texture makes it easy to paint. In person, polyamideis a strong material that resembles patted down, flattened snow. The paint won't just wipe off, which means you don't have to use as much sealant as you would on a perfectly smooth, slippery surface. Many people airbrush or hand paint their models after they print them. This is especially useful for eyes, which look shiny and lifelike under a layer of high-gloss varnish.
This horse-themed marionette is made using hinge joints. It printed entirely as one piece, no assembly required.
3D printing is very precise, and works well for tightly fitted pieces such as hinges, ball joints, caps and lids. This makes it easier to create your own ball-jointed doll (link may be NSFW because of doll nudity), hinge-jointed action figure, or complex marionette!
Technically, you only have to sculpt one half of the figure, and the computer generates the other side. Symmetry features are versatile enough to allow you to decide which parts are symmetrical, and which parts aren't… which is a good way to create a figure with an asymmetrical face, but symmetrical jointing on both sides (i.e. knees, elbows, thighs.)
Best of all, designing in 3D ensures your joints and hinges are symmetrical and useable on both sides. This is a pretty handy alternative to clay sculpting, and you could always just print the joint parts (and embed those into a clay design.)
Frantic Bacon is a figurine printed off a design and render created by Elfriede. This animated, spunky design is a great example of a multicolor print. Elfriede made this in ZBrush, a professional 3D sculpting suit (similar to the free software Sculptris, but more powerful.) It's a great software for those of us who prefer visually "sculpting" 3D designs to manually "building" them.
Elfriede's custom figurine came out of the printer in full color, and sealed. To get this result, paint the strokes and colors on your 3D CAD (Computer Assisted Design) software, submit the file with the color data, and let the printer work its magic.
Multicolor printing is good news for those of us with shaky hands and no patience/time/brushes: 3D printed designs can come out of the printer in full color. Printing in color has several applications for fantasy designs: you can use photographic textures for ultra-realistic skin and hair textures, and import images from 2D art programs like Adobe Photoshop (free trial link here), Gimp (free), or even Microsoft Paint.
Depending on the CAD program you use, you can also use symmetry features to make your digital brushstrokes to look as symmetrical or asymmetrical as you'd like.  Some people even mix traditional airbrushing and brushstrokes to enhance their multicolor prints, which can save money on brushes or paints.
How to get your 3D Print
Which fantasy design do you want to create? Simply upload your 3D model here, choose from 100+ materials and finishes and let us create a high quality print for you.