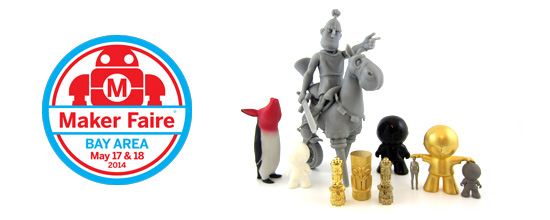 Come Visit Us at The World's Greatest Show (and Tell) on Earth: Maker Faire Bay Area 2014
by Steven | April 11, 2014
Maker Faire is a festival for everyone that is inventive, creative and resourceful, and a celebration of the maker movement. The 9th annual Bay Area Maker Faire will take place on May 17th and 18th. Of course we won't let the opportunity pass by to be present, and neither should you. So pack your 3D projects and maker dreams and come meet crafters, tinkerers, hobbyists, engineers, artists, educators and enthusiasts from all over the world.
The i.materialise team is set to showcase the work of our community. Looking for some eye candy? Than you don't want to miss the opportunity to gaze at the winning prints of the Drone Challenge and many other cool designs by our community. If you have been following our blog lately, you know what interesting projects we are talking about. There are great makers in our community and they deserve to be put in the spotlight at the Maker Faire. All our materials and finishes (including metals) are also set to travel all the way to the festival and delight participants. A meet up will definitely take place. It is the ideal moment to spread the love for 3D printing and teach newcomers about the endless possibilities of the craft. More information on this will follow, so stay tuned!
See you in San Mateo!