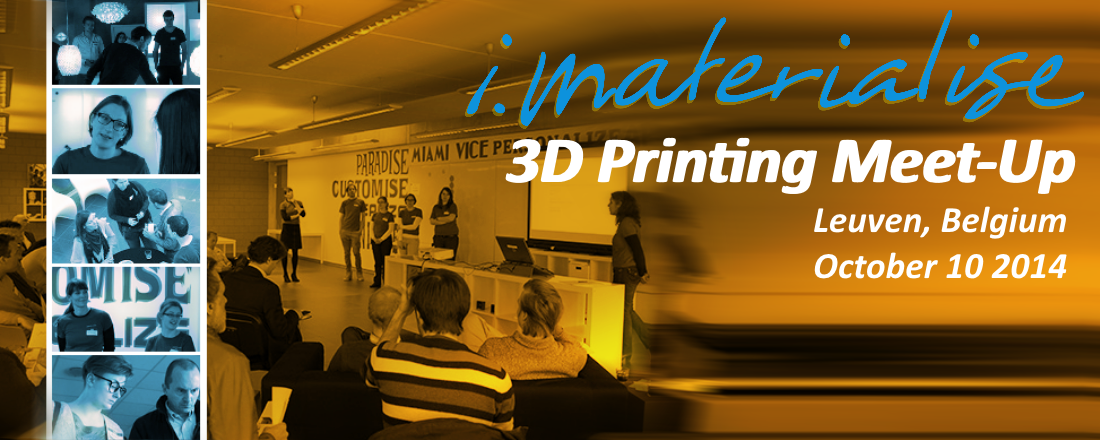 Come to our October 2014 3D Printing Meet-up in Belgium!
by Roxy | August 25, 2014
Want to learn about 3D printing and connect with other designers? Then come join our upcoming meet-up at our Belgium headquarters! The meeting is in Leuven, Belgium office on October 10, 2014 at 14.00-18.00 GMT +1 (Belgian time).
Sign up for this free event here.
Read on for directions and more info!
The "i.materialise October 10 Meet-up" is a free event designed for 3D print enthusiasts to share experiences, connect with fellow designers, and ask all the tough questions you want answered. Learn about our company as you tour its facilities– and feel free to look at, touch, and photograph all our print-ready materials!
Be sure to bring your 3D printed design! Don't have one? Bring your ideas. Our experts will be on-hand to share tips, advice, and other free goodies.
Journalists are also welcome to attend! We'll do our best to ensure that you have access to excellent photos, quotes, and personal connections. So come join us on a dazzling, high energy tour through one of the biggest 3D printing facilities in the world!
PROGRAM SCHEDULE
Welcome
Presentation of i.materialise: What can We Do for You?
Tour
Check out different materials
Drink & Talk
WHERE
Materialise
Technologielaan 15
3001 Leuven
WHEN
Friday
October 10, 2014.
14.00-18.00 GMT +1 (Belgian time)
QUESTIONS
Mail any questions to community@i.materialise.com, and we'll be happy to help you!