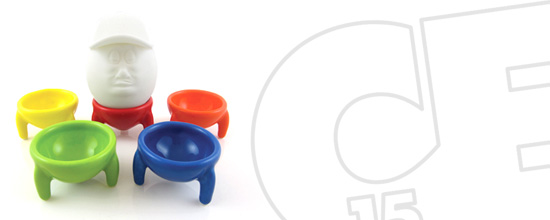 Brighter, Faster and Food-safe: Introducing New Ceramic Colors
by Yui Takahara | May 14, 2014
Today we're excited to unveil our brand new ceramic colors! We're now offering brighter colors in a shorter turnaround time, with better overhang capability. And the best part remains: it's still a food-safe material! Because we want you to see these new vivid colors with your own eyes, when you order your next 3D print you'll receive a small ceramic eggcup free! 
The color choices for ceramic prints used to be soft pastel but, as you can see, we've brightened them up just in time for summer. We're introducing 7 new colors: Banana Yellow, Safety Orange, Apple Green, Tomato Red, Denim Blue, White and Black.

But color isn't the only thing that's changed. It used to take 15–20 business days for the models to be shipped out, but we've managed to shorten this time to 10–15 business days! This now means you can get your 3D Printed ceramic model faster than ever.
Furthermore, improved printing process now allows for longer "overhanging" designs for ceramic models. An overhang is a part of the design that sticks out from your model's main body, and its length was previously limited to 20 mm for ceramic models. However, now you can design an overhang up to 90-mm long, as long as it's thick enough to support itself. Detailed guidelines for incorporating overhangs into your designs are shown below.
Wondering what to design with this new ceramic? We suggest tableware because, even after the color change, the biggest advantage of ceramic is that it's food-safe!
Get a Free Eggcup!
This eggcup, which makes looking forward to breakfast even better, is a good example of some of the unique tableware designs you can 3D Print in ceramic. And the good news is, one of these charming eggcups will be packed together with each 3D model of any material shipped out starting today! But you might want to place your order soon – eggcups will ship only as long as supplies last. The color of the eggcup is chosen at random so you'll have to wait until you unpack it to see which color you get!
We can't wait to see how you will use these bright colors. Share pictures of your models printed in these vibrant colors ceramics and inspire the 3D Printing community on our Facebook, Twitter or Google+!