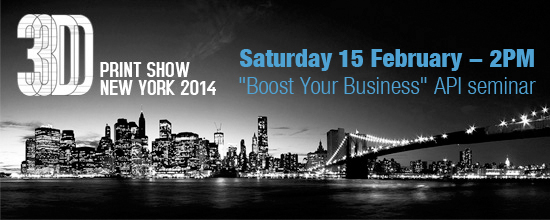 "Boost Your Business" API seminar at 3D Printshow New York
by Franky | February 6, 2014
As 3D printing reshapes everything from healthcare to jewelry design, entrepreneurs and managers who make it easy for their customers – and their companies – will secure a competitive edge. The i.materialise application programming interface (API) offers a fast-track way of improving your 3D print process. Hook our service  to your app, website or software and let your customers automatically place orders, under whatever pricing and other conditions you set. 
Our expanded API now offers direct pricing, cart and cart item registration, cart ordering, order cancellation and tools for upload summaries, upload reporting and order follow-up reporting.
If you're in New York for this year's 3D Printshow (13-15 February 2014), the best way to learn more is to come to i.materialise expert Wim Verstraeten's seminars.
Date: Friday 14th February
Room: Sphere
Date: 15:00-15:45
Date: Saturday 15th February
Room: Cone
Date: 14:00-14:45
He'll cover the basics (what an API is and the different types that are available) and provide practical examples of how it can be used.
For more details on what's included and to make sure you get a place, check out their event website.