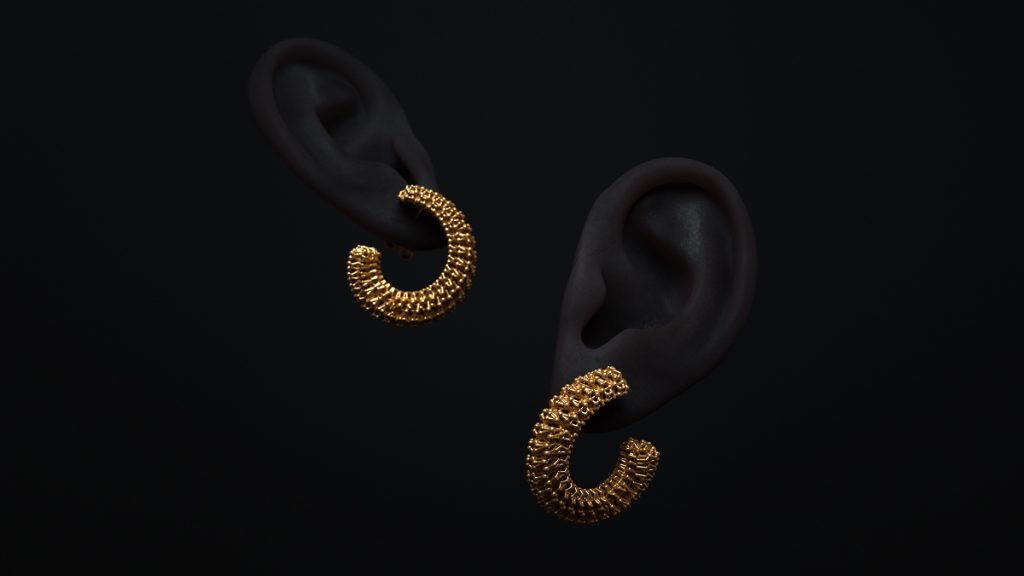 Blueberries: 3D-Printed Jewelry that goes to Infinity and Beyond
by Aura | November 29, 2017
When designer Zbyněk Krulich and jewelry maker Markéta Richterová met in 2012 during the blueberry season, their jewelry brand, Blueberries, was born. That very same year they were awarded the Czech Grand Design Award for the best jewelry of the year.
Since then, this 3D-printed luxury jewelry brand based in Prague hasn't stopped creating beautiful jewelry collections, which combine abstract geometry and natural patterns.
In 2017, they launched their new collection, Infinity, and we wanted to know all about it, as well as the source of their inspiration and their passion for 3D printing.
Warning: this interview can seriously inspire your 3D printing imagination!
 When and why did you decide to start Blueberries?
Zbyněk has been working with 3D printing since 2003 for his architectural and design work and Markéta is a jewelry maker, well-known for her experiments with non-traditional materials and technologies in this field. It was only a matter of time that we would do something together with 3D printing.
The very first design for a bracelet was made in 2006 but we had to wait until 2012 to print it. In 2010 we started working with i.materialise and it was the first time that we found a producer with great quality and affordable prices.
Where do you get your inspiration from?
Our whole lives, we have been investigating nature and life itself. It may sound cliché but this is how it really is. We are not scientists; we are designers, but we love to learn about nature from great minds like Stuart Kauffman, Nick Lane, Albert-Lászlo Barabási or Brian Greene.
So here we are, surrounded by emerging patterns, forms and shapes: this is our perception of reality and we try to incorporate these ideas into our designs. We would sum it up as a combination of abstract geometry, art and natural patterns. It's holistic and futuristic yet gentle and on a human scale.
What is your normal workflow for a new jewelry project?
First we come up with a background story and an idea that is the core of the conceptualization phase. With the concept in mind, we do the first designs with a 3D software program, and we do iterations for the prototyping phase. With the prototype printed we make more iterations for the final design to get the perfect final results.
The whole process also includes hand-made work and finishing, creating images, photos and other materials.
We are getting a better understanding of the 3D printing technologies and how to design for 3D printing, which is crucial because we are always working on the edge of what it is possible to make with 3D printing.
We were lucky that the Infinity collection was almost ready on the first attempt. We would like thank Olga Naidonova, from the Engineers Support team in i.materialise, who is always helping us with the production of our pieces. For this collection, we consulted our first designs with her and the team before sending them to the 3D printers.
What is your favorite material to work with?
At the moment it's silver because it's a very versatile material. We can easily work with it in our jewelry workshop as well. Gold-plated brass has also been a favorite of ours for a long time because it's affordable and it looks great.
In the future, we would like to work with solid gold.
Which 3D modeling software do you use?
We use Houdini by SideFX for design. It has a node-based workflow where you are building everything in a procedural way. Instead of moving vertices we are creating small systems to manipulate data in 3D. For the final analysis and export we use Meshmixer.
What is the main advantage of using 3D printing for your designs?
3D printing has several important advantages for us. First of all, 3D printing allows the biggest freedom of design. We are not designing the exact shape but we are generating it by a simple set of rules. This is easily done on a digital platform but very time-consuming with real material. With 3D printing, you can design complex shapes and inner structures that you can then easily print.
On the other hand, 3D printing is by far the best way to produce pieces with complex designs like ours. It is almost impossible to do it by hand: it will take so much effort and time to do it that you will end up with one or two pieces of art which can't be repeated. 3D printing is the best technology for repeated items and mass customization since you can print almost any form with many variations and sizes.
Finally, 3D printing is great to keep development costs down. With the rapid prototyping offered by i.materialise we started Blueberries with a small initial investment, without having to spend on technology, machines, workshop or expensive molds.
What inspired you for the designs of your new collection Infinity?
The latest Infinity jewelry collection is based on the concepts of a never-ending process, repetition and non-definiteness. The jewelry in this collection reflects the shape of the Möbius band, fractals and tessellation, perfectly representing our notion of infinity.
The collection is deliberately futuristic but at the same time classical or even old-fashioned, showing the way we cope with infinity, time, and a continuous process. All Blueberries' collections are based on precise geometry that grows from irregular foundations, and this is most pronounced in the Infinity collection.
At first sight, the individual pieces of our jewelry seem to have been composed of repeating patterns, but when examining them closer, one can find details that look different: similarly to the way it is in the Universe or in nature. After all, the universe and its vast scale have been a great inspiration for our collection, even though the Infinity jewelry looks gentle and on a human scale.
The Infinity collection includes fine small-sized earrings for everyday use, as well as pieces designed for special occasions. It is available in different materials and finishes such as silver 925, 18K gold-plated brass or solid gold. We believe that everyone who has developed a taste for Infinity by Blueberries will be able to choose from our offer.
Browse Blueberries' i.materialise shop and be amazed by their intriguing pieces or discover more about the jewelry designers on their website.
Interested in 3D-printed jewelry? Learn more about the software available, the most popular materials and the inspiring stories of 3D designers. Follow the steps of  Markéta and Zbyněk: when your designs are ready upload them to our online platform to print.