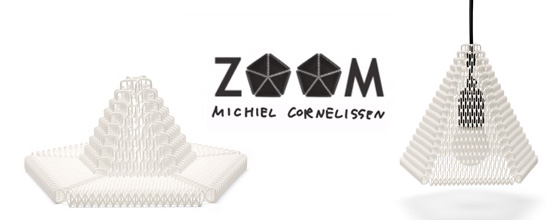 A Self-Transforming Lampshade: Welcome to the World of 4D Printing!
by Yui Takahara | April 25, 2014
ZooM is a classic 3D printed lampshade: probably a perfect match for your dining room. But if you order it from our online shop, you will receive a box with a 3D printed flat pentagon inside. So how can this function as a lampshade? The keyword to uncovering this secret is "4D printing."
The ZooM Lampshade was created by a Dutch designer Michiel Cornelissen. It's composed of hundreds of geometric elements, which form a series of interlocking spirals. To make this into a lampshade, simply use standard parts that you can get from any hardware store. Once you thread a light bulb cord through the center, you will see why ZooM is so special: the pentagon pops up and transforms into a beautiful lampshade!
This quick yet surprising metamorphosis of the ZooM lampshade was made possible by programmable material and generative design software called Grasshopper. The "fourth dimension" of 4D printing thus represents the object changing over time. This is the concept of 4D printing, which applies 3D Printing technology to produce an intelligible, self-transformable and sometimes self-assemblable object. If you want to learn more about 4D printing, watch this TED talk by an MIT researcher Skylar Tibbits, a pioneer of 4D printing.
The designer of ZooM, Michiel Cornelissen has an industrial design background and hands-on knowledge in generative design, customization and 3D Printing.
"My latest passion is digital manufacturing, using technologies such as 3D Printing that can manufacture complex products without the need for large investments. The creation of products is becoming accessible to almost anyone, unprecedented form factors can be achieved, and products are becoming as adaptable and customizable as software."— Michiel Cornelissen
You can also buy other items designed by Michiel, including the iconic Happy Bird necklaces, earrings, and one of our all time favorites: the 36 pencil bowl. Already fallen in love with his fresh and smart designs? You can follow Michiel on Facebook and Twitter. Don't miss out the evolution of 4D printing!