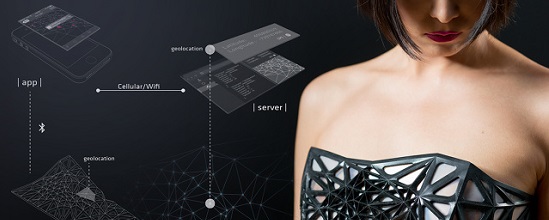 5 Breathtaking Dresses Made with 3D Printing
by Billy | October 24, 2014
What seemed like a distant future where you 3D print your own clothes is edging closer to reality as these innovative fashion designers are embracing 3D printing to make stunning outfits. For fashion designers, 3D printing opens up a world of possibilities with faster prototyping, lower costs and technology-integrated design. Here's 5 breathtaking dresses made with 3D printing.
Anouk Wipprecht is a Dutch fashion-designer known for pushing the boundaries of technology and fashion with her beautiful dresses. Her 3D printed Synapse Dress is a bold take on wearable art: fashion focusing on the wearer's experiences and behaves on her behalf. It is powered by Intel's newly launched Intel Edison microcontroller, and 3D printed in a flexible material, TPU 92A-1, at Materialise.
The dress has a camera on the front that can captures a picture whenever the subject feels either most tense or most relaxed so she can later track what was making her feel that way.  Her previous work includes among others the "Smoke Dress" , a series of designs for Cirque du Soleil's LIGHT nightclub  and the upcoming Open Source Dress.
Since it was first released in 2013, the 3Doodler 3D printing pen has captured the imagination of artists worldwide, and is now being used to create wearable art. Through a lot of patience and dedication, fashion art house SHIGO created a highly detailed laced dress inspired by seashell designs. Check out the video below to see the process of making the dress.
From the Iris van HerpenBiopiracy Collection comes a dress collaboration between Iris van Herpen, Julia Koerner and Materialise.  This elegant looking dress premiered in Paris, France this year and showcased the grace that can be achieved by 3D printing on a catwalk.
On Sunday 10th November 2013, after the debut of the world's first flying dress, Volantis, Lady Gaga walked the red carpet in another cutting- edge creation by Studio XO, the 3D printed Parametric Sculpture Dress. Wearing the dress, she joined ArtHaus collaborator Jeff Koons to meet the world's media and officially launch ArtRave.
The Parametric Sculpture Dress is inspired by the Gaga-Koon's collaboration and the sculptures specially commissioned by Lady Gaga for the ARTPOP album artwork which were also debuted at the spectacular ArtRave.
The couture finish parametric dress is a 3D printed body architecture which transcends Lady Gaga elegantly. A majestic garment designed by Lady Gaga's TechHaus collaborators Studio XO, the dress was created in their high tech fashion laboratory in London. Studio XO worked with Materialise to realize this incredible state of the art piece using their patented Mammoth stereolithography machines, the world's largest 3D printers.
NYU graduate student and maker, Xuedi Chen, used 3D printing to create the x.pose dress that changes from opaque to transparent as more data about the wearer is shared online. The idea of the x.pose dress explores the idea of individually in a hyper-connected society. As Chen moves from one area to another her cell phone data is being collected. Depending on how much data she's giving away about herself, Chen's dress becomes more or less exposed in real time.
"By participating in this hyper-connected society while having little to no control of my digital data production, how much of myself do I unknowingly reveal?" To what degree does the aggregated metadata collected from me paint an accurate portrait of who I am as a person? What aspects of my individuality are reflected in this portrait? x.pose is my exploration of these questions. Since I have already ceded control of my data, I wanted to go a step further and broadcast it for anyone and everyone to see."  – Xuedi Chen