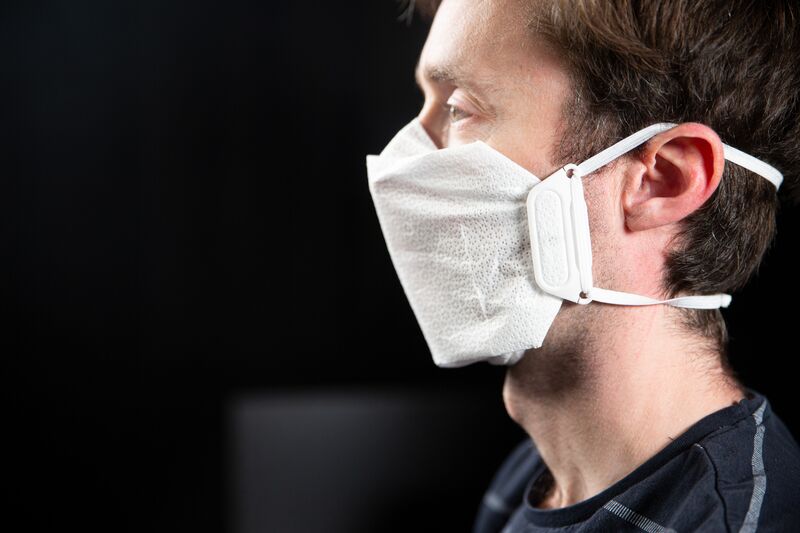 4 Designs On i.materialise To Help Stop COVID-19 As Lockdowns Lift
by Elizabeth | April 20, 2020
Though much of the world is under lockdown due to the coronavirus, some are starting to think of reigning in some measures while still staying safe. The 3D-printing community has been busy during this time developing designs to help the public do just that. From face mask clips to badge holders, here are a few of our favorite items available on i.materialise that were created to protect people in situations where contact with others is unavoidable.
1. Face mask clips
Many are turning to cloth face masks in attempts to stop the spread of COVID-19 without putting more strain on the supply of medical-grade face masks for healthcare workers.
These 3D printed clips allow you to turn just about any type of fabric into a face mask for non-medical use. The clips are reusable, so that the fabric can be changed easily and regularly.
Our partner EDAG Group designed a solution for the mask holder that was deliberately kept simple, functional and sustainable. The EDAG Group has compiled a list of suitable fabrics which should be found in every household, the corresponding 3D printing data for the mask holder as well as building instructions are also available on their website.
This product comes as a set of three complete face masks, including the clips, filter fabric and elastic strap.
Discover the design and customization options in our shop:
2. Face shields
As lockdown measures will start to ease up, it will still be important to keep the people treating COVID-19 patients safe. With personal protective equipment shortages around the world, many 3D printing companies have come out with designs for face shields to reduce exposure to healthcare workers.
Materialise worked with 3D printer manufacturer Prusa to come up with a 3D-printed visor band, an adjustable elastic strap, and ten disposable 200-micron-thick plastic sheets to provide an added layer of protection over a face mask.
Assembly is simple: use a standard hole punch to make four holes in the plastic sheet, and then clip the shield into the visor band. Detailed assembly instructions are available here: How to assemble the Prusa Face Shield
See the design in our shop:
3. Hooked badge holders
We designed a housing for office key cards that doubles up as a contact-free way to navigate your work environment.
Not only does the design provide a safe spot for you to store your office key card, but it also has a hooked end so you could do small movements, such as open closets or operate elevators, without having to use your hands. Plus, our partner Trinckle has created a customizer configurator so you can get a badge holder that is unique to you and your co-workers.
Order our pack of ten in our shop:
Or visit Trinckle to customize the design with patterns and your own logo:
4. Hands-free door openers
Another way to stop the spread is to avoid using our hands when opening doors. Our risk prevention advisors at Materialise have found that by using our covered arms instead of our bare hands, we can work together to avoid further passing on the coronavirus. That is why we designed hands-free door openers.
Or, easily customize the hands-free door opener to work for your own doors. With Trinckle, you can tweak the design to match the shape, width, screw type and handle size you need. All you need is 3 minutes, no CAD knowledge necessary
Read more about the inspiration for the design on our blog.
We have a wide variety of shapes and sizes available in our shop:
Customize your own on Trinckle:
Do you have designs of your own that you would like to put into action?
Upload your model today!