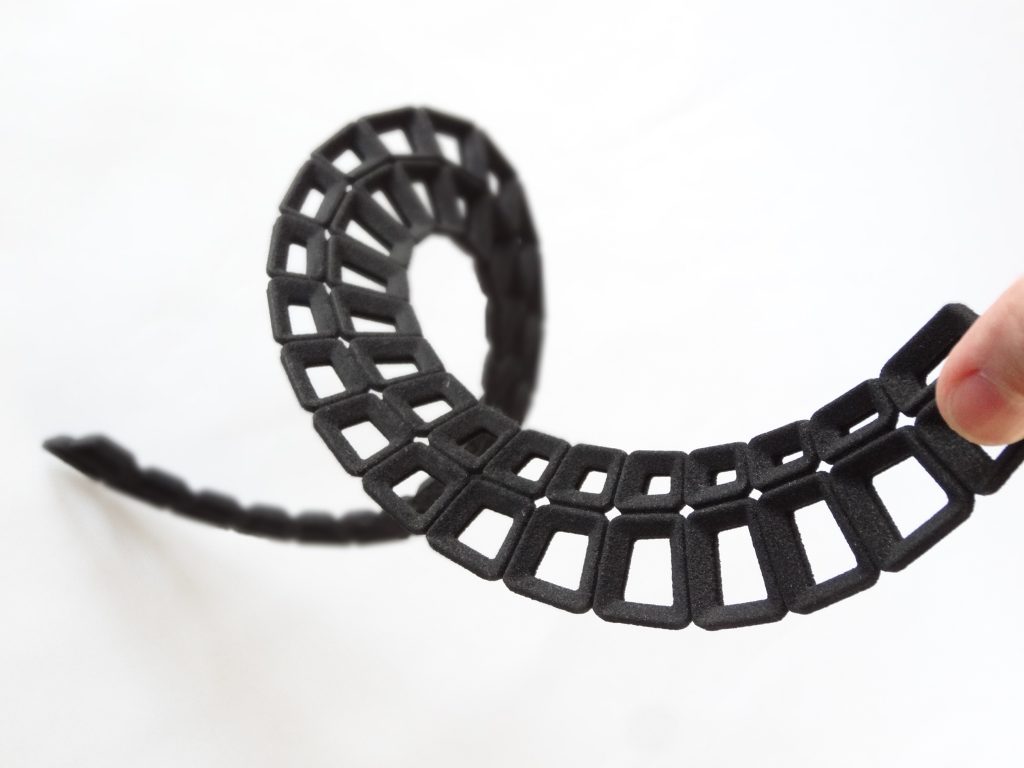 3D Printing in Rubber-like with Cristian Marzoli
by Aura | March 6, 2018
Light and flexible are the main characteristics that Cristian Marzoli, an Italian architect and designer, uses to describe this 3D printing material. We would add strong and durable!
The magic of rubber-like is this mixture of softness and durability. With a sandy granular look, this is the 3D printing material of choice to 3D print squeezable models, and it's also a great option for fashion and jewelry.
A good example of this are Cristian Marzoli's bracelets and necklaces in rubber-like.
Marzoli has always enjoyed designing objects for himself and he started 3D printing in rubber-like five years ago with i.materialise.
As an architect, he gets inspired by art and geometry; such as in his piece Uccello's Nest, which was inspired by the drawing of a "Mazzochio" by Paolo Uccello. The drawing can be seen at the Uffizi Gallery in Florence.
The position of the points used by the painter is randomized in order to prospectively recreate the geometry. Each piece of the collection will differ from the others since both the number of interconnected points and their position on basic geometry will vary.
History is another source of inspiration for the Italian architect, for example in the necklace Nefertiti's Dune.
"It's difficult to describe my creative process; ideas take shape over time, often in moments of tranquility, like objects emerging at the bottom of a bucket full of water and sand after the sand slowly settles, leaving the water transparent", explains Marzoli.
He started working with rubber-like material since he realized that it was not just a 3D printing material useful for prototypes. He thought that it was very interesting to create light and flexible finished objects with it.
Cristian shared his opinion with us about 3D printing in rubber-like: "The material is slightly rough, so it must be taken into account in the design; the use of natural material should be more encouraged because the effect is very interesting, similar to a gelatine."
Since he started 3D printing, Cristian Marzoli has tested all the materials that he thought were useful for jewelry creation. He has done 3D prints in steel, ceramics, polyamide (SLS) and even with FDM technology.
Marzoli is always working on innovative 3D printing projects. He collaborated with the knitwear expert Nicola Miller for the realization of two samples that join 3D printing and yarns to be exhibited in Florence during the event Pitti Filati. In November 2017 he also exhibited two of his jewelry pieces at the third biennial of jewelry in Beijing.
And he also has some new 3D printing ideas: "At the moment I'm working on a chair that can be made using FDM printing and some fabric printing tests and I would also like to experiment in the field of 3D-printed food."
The possibilities of 3D printing in rubber-like
Rubber-like comes in a white natural finish with a sandy and granular look. The thicker the 3D model, the more yellow it will be in color.
Rubber-like 3D prints can also go through a dyeing process in the color black. Cristian Marzoli's designs are a good example of black rubber-like.
The technology behind rubber-like is laser sintering, so it's possible to 3D print interlocking parts.
Design guides for rubber-like
Wall thickness: Take into account that variations in wall-thickness of your design can cause color inconsistencies. Try to minimize them as much as possible or order your design in a black dyed finish to avoid them
Model Hollowing: It's advisable to hollow out your rubber-like 3D print to avoid deformation and discoloration during the 3D printing process
Big flat planes: Avoid this kind of surface on your design to prevent warping or deformation
Moving parts: Leave a minimum space of 1mm between surfaces and rings for chains and interlocking parts
Surface texture: The 3D prints will have visible layers on the surface because of the nature of the 3D printing process. You can apply a surface texture in order to avoid this
Engraved details: We recommend a minimum wall thickness of 1mm, a depth of 1.5mm and a height of at least 4.5mm
Embossed details: We recommend letters that have a line thickness of at least 0.8mm, a height of 3mm and a depth of 0.8mm
Holes: To avoid the blocking of holes during the 3D printing process, they should be larger than 1.5mm
Edges: Sharp edges can be tricky with rubber-like. It's a good idea to round the edges at a radius of 0.5 to 1mm
Read our design guides in detail to get the best designs for your 3D prints in rubber-like.
Do you want to be able to squeeze your next 3D print?
Use rubber-like for your 3D designs and upload them to our online platform, where you can choose your finish: black or white?
Read more about rubber-like on our website.
At this moment, rubber-like can't be produced and distributed in the United States due to distribution restrictions.