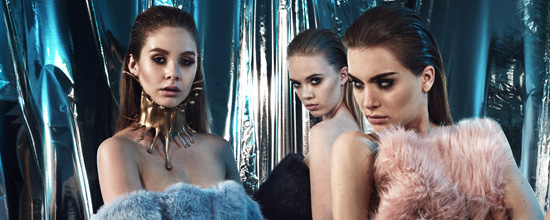 3D Printing Meets Activism: Rose Thurmes' CLIMAXX Project
by Darya | December 29, 2014
Quite often people associate fashion only with creating fancy and stylish outfits. They tend to forget that fashion is an art form and, as with any art form, it aims at addressing political and social problems by raising awareness and making people reflect on them. For those who do not agree with this perspective of fashion, we would like to show you the CLIMAXX Project by Rose Thurmes.
Rose Thurmes, born and raised in Luxemburg, started off her journey into the art world by attending art camps in Luxemburg and Bali. Over the years, she discovered her affinity for visual design and aesthetics. She graduated with a Bachelor of Arts from the Athénée of Luxembourg with concentration in art, and her final work, which she completed with excellence, is the CLIMAXX Project.
This work seeks to explore the issue of climate change and raise our awareness of its impact on nature and all of Earth's inhabitants. The artist reflects on the dire situation of the polar bear by portraying it as a symbol of an Alpha animal:
"A mighty animal that sleeps on cakes of ice, the frosting of the earth. In an environment where cold winds howl and vicious storms blow, a cold so fierce, forty below. Only few other, than the enduring polar bear, can survive in these harsh climates. But they are in danger. Because our environment is in danger. The one we share with them. Not only is our blatant disrespect evident in the destruction we do to our home, the Earth, but also in our treatment of its inhabitants, fauna and flora."

Rose uses faux fur instead of animal fur, enabling us to have the perceptive pleasure of fur without its dire history of abuse, torture and neglect. This displays a positive way of thinking in the fashion industry.
The accessories – the necklace and belts – were 3D printed in polyamide and then painted. These accessories symbolize the melting Polar ice, which strangles the bears' necks and cuffs them down. This ultimately restrains them to the point where they are undergoing a slow demise, though we do not hear about it because they are way up north in a region remote to us.
Do you know any other fashion projects that raise awareness of important issues? Share them in the comments below.