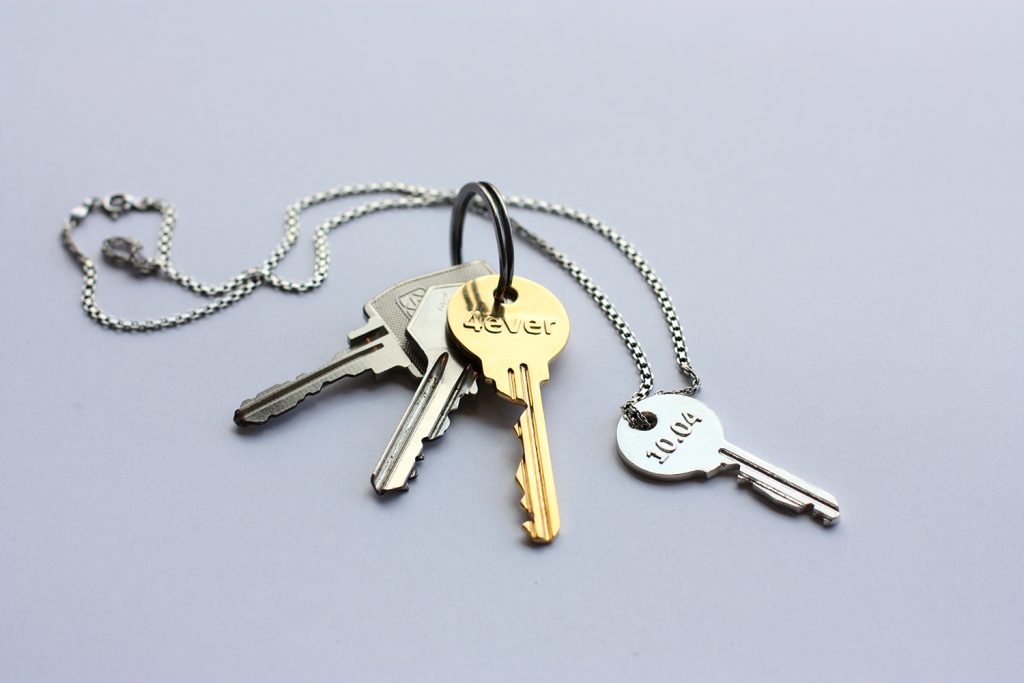 Message in a Key: A 3D Printing Kickstarter Campaign
by Aura | November 10, 2017
What has been the most important sound of your life? Which sentence do you want to remember forever? Maybe the heartbeat of your children or a beloved person saying "I love you"? With this idea in mind, 3D designer Lisa Kläver created Miaw, a Kickstarter project focused on designing unique jewelry pieces.
Miaw means "Message in a Wave" and the idea behind it is to transform a sound or a voice into a unique gift that you can take everywhere with you: a key. To do that, Lisa Kläver joined her 3D design skills with the potential of Kickstarter and the 3D printing services of i.materialise.
How does Miaw work?
Send a four-second recording of a voice or sound
The message is transformed into a sound wave and used to design a key
Choose the material you prefer for your key: stainless steel, bronze, 14k gold plating, silver or 18k gold
Choose the size of the ring: 46 mm, 65mm or 75mm
Add up to 5 characters which can be embossed on the top of the key
The designed key will be printed and delivered by i.materialise
A special 3D-printed gift for your loved ones
Lisa got introduced to 3D printing while studying product design in Amsterdam, where she learned that "every design should represent you as a person". Nowadays, she works as a 3D designer and helps many customers to get their ideas onto the market, staying true to herself but without losing the original idea of the client at the same time.
She has also created many personal gifts for the loved ones of her customers and she was intrigued by their motivation to create a personalized present. Inspired by the notion that every person is unique and every gift should be as well, she decided to create jewelry that represents a bond or situation in someone's life.
Lisa tells us more about the inspiration behind the project: "Everybody has this moment they wish to last forever, to be reminded of and carry with them every day. It can be the first cry or heartbeat of a baby. A special giggle or the way someone says 'I love you'".
According to Kläver, sound waves in a key are the best way of using and transforming information to achieve a beautiful outcome. What is more, with the characters placed at the top of the key, the outcome is always special and relevant.
The perfect partnership for a creative project
Kläver is also not new to Kickstarter, as she has helped many customers start campaigns on the platform with new product ideas. When Kickstarter recently launched Commissions, she knew it was her moment to present a project. The idea behind Commissions is to involve the backers in the creative process of the creators and use their input for inspiration.
Lisa chose 3D printing because it's the best way to make one-offs and it enables her to create a project that can both use different metals and allow her to design the keys efficiently. The outcome is reliable and perfect for her design idea.
"The setup of Local Makers, Kickstarter and a company like Materialise, offers great opportunities to scale up amazing ideas quickly. It's exactly what we strive for: great ideas, amazing design, quick, efficient rapid prototyping and reliable production. It helps us a lot in our product development process to have a reliable partner we can go to and get high-quality prints in metals", explains Lisa about this cooperation.
A 3D designer at work
For her creations, the German designer uses mostly 3D software program Rhinoceros because it suits her way of designing best. She also uses 2D design programs like Illustrator and InDesign as part of the creation process, although she is very clear in her approach to design and creative thinking: "Nothing beats pen and paper and a hands-on approach to test, research and get a real feel for form and function. So still, every day I get my hands dirty. I sketch, I paint, I sculpt, I 3D print, I laser cut and most of all: I question. I think that is the most important tool to design. My tool in every project is my questioning mind and the need to always be better."
3D printing enables Lisa to test and very quickly realize all her ideas, as well as helping her to design better and faster. She uses 3D printing as a quick rapid prototyping tool as well as an actual production method. "I think 3D printers are my third creative, very precise arm!"
Read more about the Miaw campaign and back it on the Kickstarter website. The Commissions on Kickstarter are only on until the 30th of November.
Lisa Kläver is not the only designer creating extraordinary pieces with 3D printing. Read more profiles about 3D creators on our blog.
Discover the possibilities of 3D printing with i.materialise for yourself by uploading your models to our online platform.
Note: This project is a creative approach to 3D design and it has an artistic purpose. However, it is completely prohibited to 3D print functional keys on i.materialise.