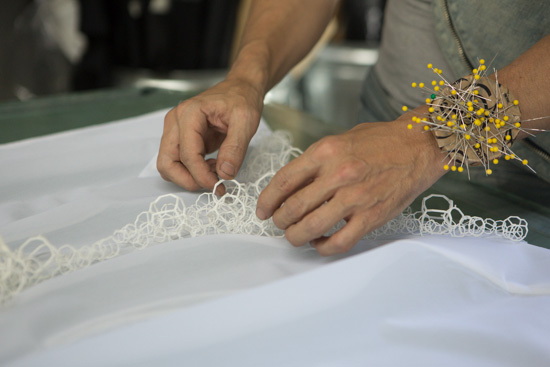 3D printing dresses from NY Fashion Week to the Jewish Museum
by Tatiana | September 25, 2013
threeASFOUR: MER KA BA
September 15, 2013 – February 2, 2014
– See more at: http://www.thejewishmuseum.org/exhibitions/three-as-four#sthash.3GIGUN5O.dpuf
threeASFOUR: MER KA BA
September 15, 2013 – February 2, 2014
– See more at: http://www.thejewishmuseum.org/exhibitions/three-as-four#sthash.3GIGUN5O.dpuf
3D printing is conquering the fashion industry. Take a look at these dresses, 3D printed and sponsored by Materialise, from avant-garde design collective threeASFOUR.
The trio introduced their dresses at the New York Fashion Week and are now to be seen in the exposition MER KA BA in the  Jewish Museum. ThreeASFOUR is a collective of designers with a very diverse (cultural) background: Gabriel Asfour is from Lebanon, Adi Gil from Israel and Angela Donhauser from Tajikistan.
This cultural diversity is reflected in the dresses which are inspired by sacred geometry and patterns found in synagogues, churches, and mosques around the world. For the nine sculptural dresses, they use laser-cut lace, origami pleats, and 3D printing materials to unite symbolic patterns from diverse religions.
The exhibition was made possible by the Irma L. and Abram S. Croll Charitable Trust with support provided by Yoko Ono, the Leon Levy Foundation, Shelley Fox Aarons and Philip E. Aarons, and Dr. and Mrs. Steven Rothenberg.
MER KA BA Exhibition, The Jewish Museum (New York City) – runs through February 2nd 2014
1109 Fifth Avenue at 92nd Street
New York, NY 10128
1109 Fifth Avenue at 92nd Street
New York, NY 10128 – See more at: http://www.thejewishmuseum.org/Directions#sthash.2V6u8xDE.dpuf
1109 Fifth Avenue at 92nd Street
New York, NY 10128 – See more at: http://www.thejewishmuseum.org/Directions#sthash.2V6u8xDE.dpuf
1109 5th Ave
at 92nd St
NY, NY 10128
threeASFOUR: MER KA BA
September 15, 2013 – February 2, 2014
– See more at: http://www.thejewishmuseum.org/exhibitions/three-as-four#sthash.3GIGUN5O.dpuf