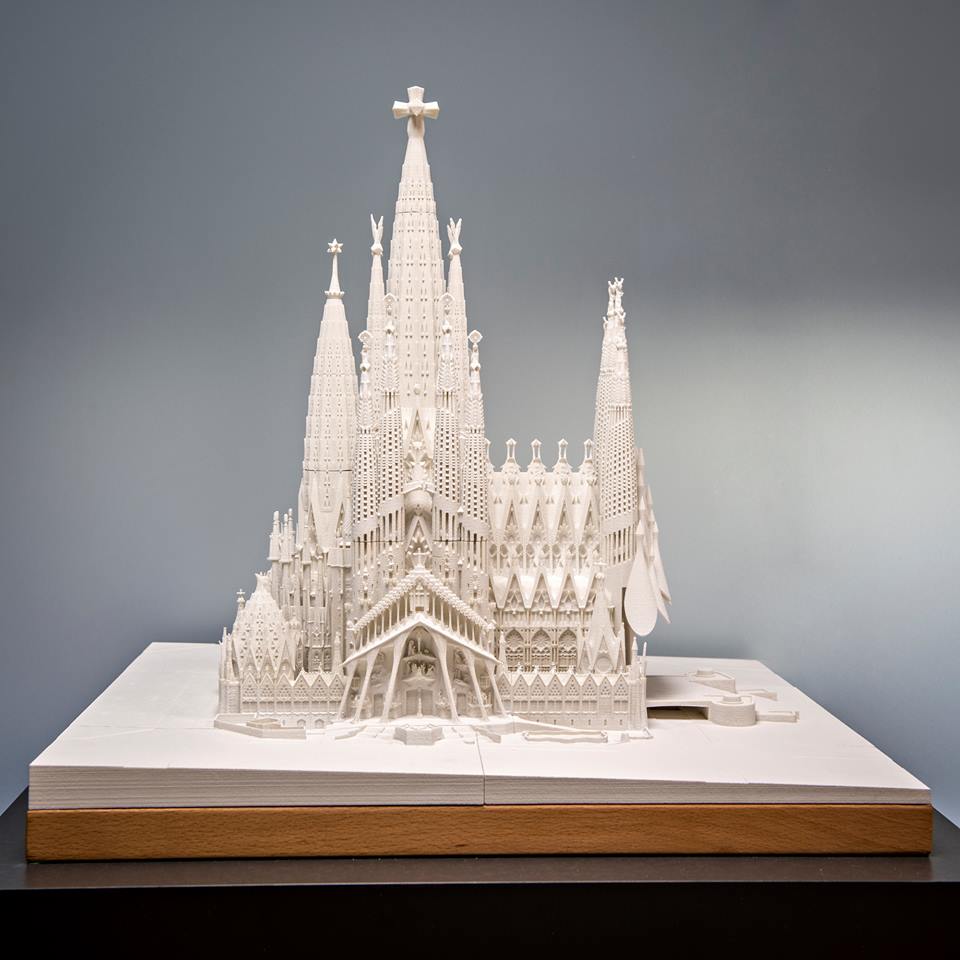 Castles In The Air? How 3D Printing Elevates Architecture
by Jana | February 22, 2021
From aerospace to mass customized wearables, 3D printing brings the house down in so many business verticals — including architecture.
Imagine: The architect sits at their drafting table, their head filled with lofty designs. When it comes to helping their clients and partners see what's in their mind's eye, sketches and virtual renderings can only get them so far.
That's where 3D printing comes in: one of the technology's benefits is that it can expand design freedom.
Let's look at four times architects were able to add new dimensions to their designs.
The team working on the world-famous Sagrada Familia cathedral in Barcelona has been using 3D printing since 2001. But even back in the late 19th century, the architect Antoni Gaudí understood the importance of moving from 2D to 3D and would often handcraft models of the elaborate building to get a better understanding of the design.
Because many of the blueprints were destroyed during the Spanish Civil War, the Sagrada Familia consortium has been creating various prototypes to visualize the complex designs. They use Materialise Magics software to 3D print models that have been able to replace the time-consuming and expensive process of handcrafted models.
The Belgian city of Antwerp boasts an ornate 16th_ century city hall that is striking because of its many intricate architectural details. For an exhibition, Materialise worked with Mindscape 3D, a 3D engineering bureau, to create a giant 3D-printed model of Antwerp's iconic building.
The only printers big enough for the job were the Materialise Mammoth Stereolithography printers, which can print models as large as an entire car dashboard. At around 1m70, this architectural model needed all the build platform space it could get. Besides size, the advantage of using Stereolithography technology is the level of detail that can be achieved. Even the intricate woodwork detailing inside the rooms of the city hall is visible.
For this UNESCO World Heritage Site in Croatia, it was not so much the scale of the model (1:100), but the choice of material that brought a new perspective on what's possible when you combine 3D printing and architecture.
To show the evolution of construction that took over 100 years to complete, 3D-printed Transparent Resin turned out to be an elegant choice. Paired with cutting-edge technology, the transparent resin allows visitors to see through instantly and within three separate replicas that show the cathedral's dramatic evolution, down to very fine details. All of the changes and interventions can be taken in, and the transition from Gothic to Renaissance becomes tangible.
First 3D-printed apartment building
If striking models of cathedrals and city halls aren't enough, how about this three-story apartment building that is currently under construction in Bavaria, Germany?
The brains and brawns behind this development are PERI, a global, family-owned building company, and COBOD which specialized in 3D printing solutions for building sites. The construction printer used can move along to any position within the construction and only needs to be calibrated once — saving time and cutting costs.
The team behind this five-apartment-project has announced it will take only six weeks to complete.
Please note that this type of project is outside of our expertise here at i.materialise, but it's an excellent example of the amazing feats made possible through 3D printing's speed and freedom of design.
Discover how 3D printing can improve your creative business or get started today by uploading your 3D designs to i.materialise.
Get our latest 3D printing news straight to your inbox each month by subscribing to our newsletter.