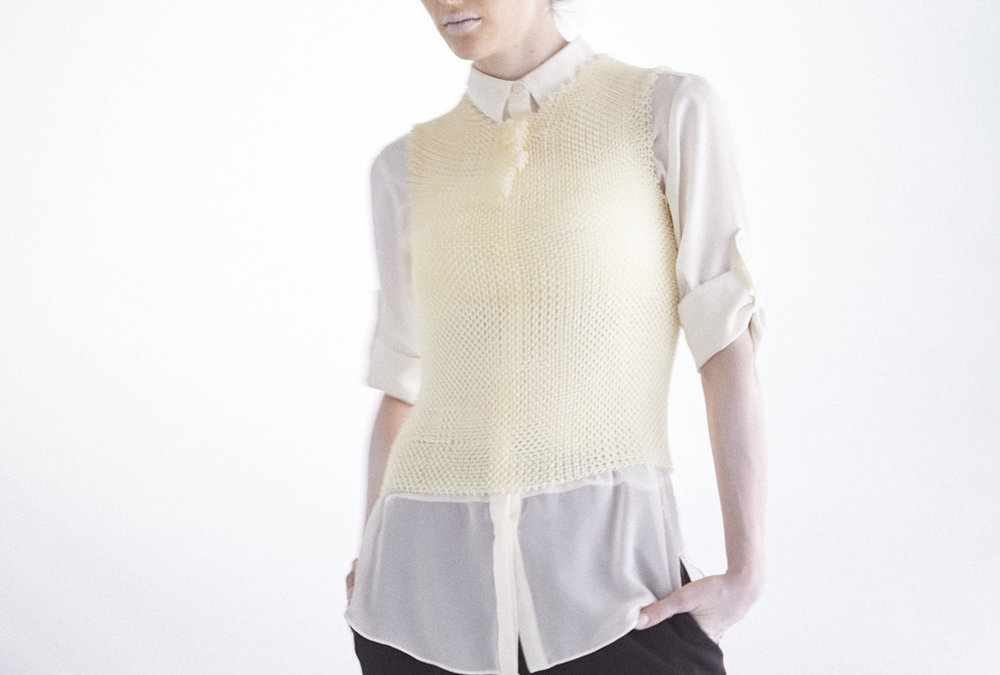 Wearable 3D Printed Tech from Japan: Masaharu Ono's Knitted Vest
by Stephanie | September 23, 2016
3D printing is already shaping the way we design and produce unique fashion pieces. 3D printed fashion by designers such as Iris van Herpen and threeASFOUR has already been worn at runways around the world. But while those designs might be impressive feats of integrating technology with fashion, you can hardly wear them while nipping down to the shops for some groceries.
Japanese tech fashion startup STARted together with designer Masaharu Ono, who specializes in 3D-printed accessories and designs with his company Free-D, have created something that you could actually wear in real life: a 3D printed knitted vest. The vest was made with rubber-like, a stretchy, pliable material composed of 3D printed thermoplastic polyurethane, which mimics the flexibility of real fabric. The project has been given the name of AMIMONO – which means "knitting" in Japanese. So how did our 3D printers manage to make a knitted garment?
STARted and Masaharu developed an algorithm together which allowed them to create a seamless woven pattern on the computer, basically mimicking the way ordinary wool thread is knitted. The original file was over 2GB and extremely complex – our STL file fixing team got to work ironing out the errors in the file with Materialise Magics, and our Build Processor's slice-based technology was needed to slice the heavy file before printing. Then our 3D printers got to work on printing out the vest in knitted form. The advantage of using a knitting pattern with TPU is that it achieves a far greater elasticity and flexibility than the clothes which have been 3D printed so far – you can even fold it up like a normal vest!
As Masaharu told us, "Until now, 3D printed clothing has been limited to shows or display purposes. However, with this method it is possible to create clothing that can actually be used for daily wear. By utilizing a universally known method such as knitting through the unexpected medium of 3D printing, we were able to create a final product that could be used as daily wear and looks no different from normal clothing. We think that this piece will serve as an example of how the still unfamiliar concept of 3D printed items can exist in our reality without issues."
Although it seems unlikely that we'll be 3D printing our own clothes at home any time soon, this is a great demonstration of how 3D printed fashion can be both functional and beautiful.
Do you also want to be part of the 3D printed fashion revolution? Are you interested in printing your own fashion design? Simply upload your 3D model here and choose from 100+ materials and finishes to make your design come to life!