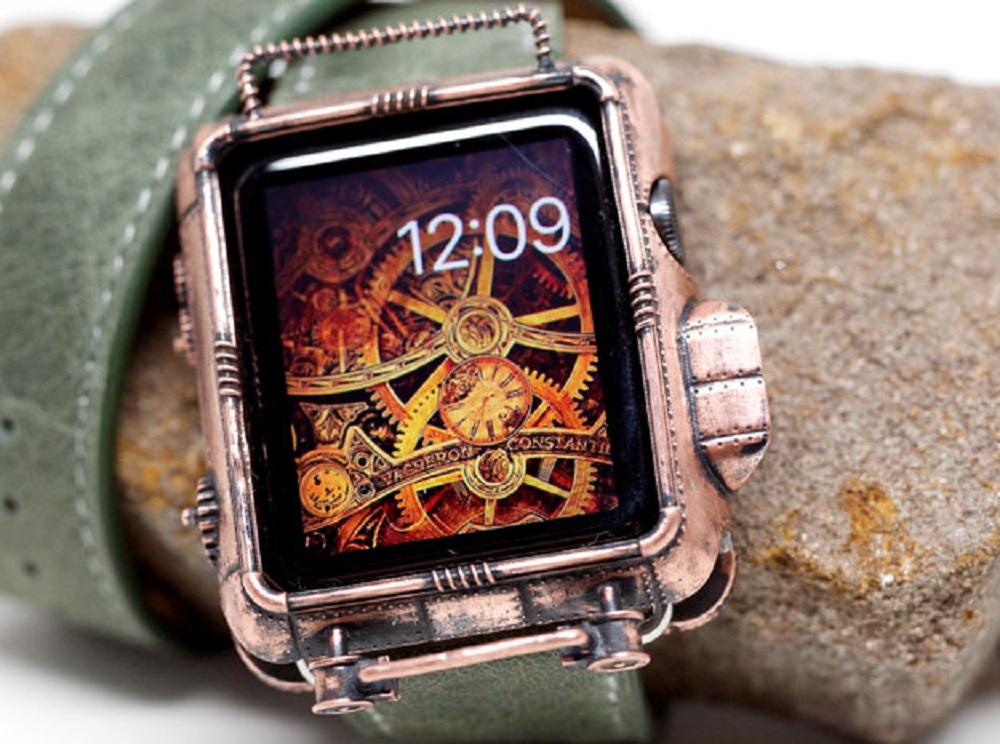 A 3D Printed Steampunk Apple Watch Cover in Copper
by Fabian | January 27, 2017
Learn how Jeremy Burnich created a 3D printed steampunk cover for his Apple Watch. The design was modeled in Rhino and ZBrush and manufactured in 3D printed copper by i.materialise.
Finding the right 3D printing material
Jeremy has worked with 3D printed bronze and silver for other watch cases before. However, to achieve the true Steampunk aesthetic, he needed a different material: "This cover had to be copper", he told us.
"I've been trying to get something made in copper ever since i.materialise started offering it as a 3D printing material. Copper is a beautiful metal that gains character through use and is lustrous when polished so I really wanted to work with it. With this project, I knew I had a good candidate for something affordable and castable."
The 3D modeling process
Jeremy already started with a base 3D model of the case that he had created for earlier 3D printing projects. Now the challenge was to give this case a true Steampunk look: "The real big thing that I had to do before remodeling was to get ideas about how I wanted this thing to look. Steampunk items look very high tech in an old tech way."
To get inspiration, Jeremy searched for inventions from the industrial age that he could use: 19th century steam boilers, turbines, dynamos, electrical transformers, etc. Since the Apple Watch obviously runs on electricity Jeremy decided that the cover was going to have to look like it used a boiler of some kind to convert steam to reciprocating motion to generate electricity to power the watch.
"Since one side had the digital crown and a button I decided that would be the control area of 'the machine'. The bottom quarter would house steam fittings, the left quarter would be the gears and a connecting rod, and the top quarter and bezel would have electrical related things. And the whole case itself would be the boiler."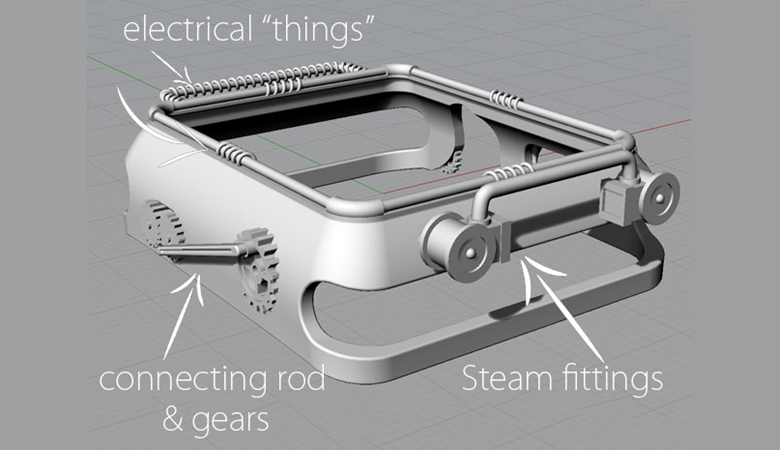 Getting the copper 3D print
After uploading his 3D model to the i.materialise website, Jeremy simply had to select the 'copper' option and let us take care of producing the piece. Since some of the model details were quite small, there was a risk that some parts might not be as visible as envisioned. In these cases, we contact the designer and give him the possibility to proceed with the order or to re-model the part: "One of many nice things about i.materialise is that they won't just cancel your order if it's something that has some potential manufacturing issues. After their engineers complete their manual review of the model, they will contact you and explain the potential problems, and ask if you want to proceed."
While waiting for the part to be printed and shipped, Jeremy bought a green leather band for Apple Watches on Amazon. A couple of days later, both the print and the band arrived: "When UPS drove up I pretty much ran out to door to get the package and ran back inside to open it up.  I was really pleased with what I saw. Every other detail looked perfect. I especially liked how the little 'control hood' over the button came out – it's my favorite part of the cover."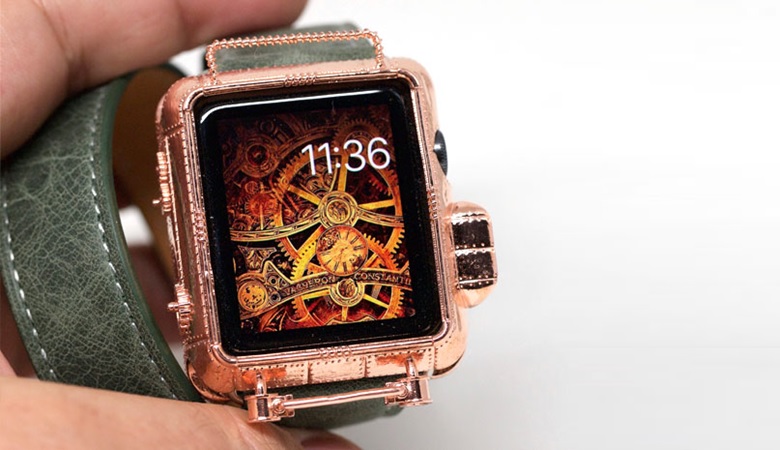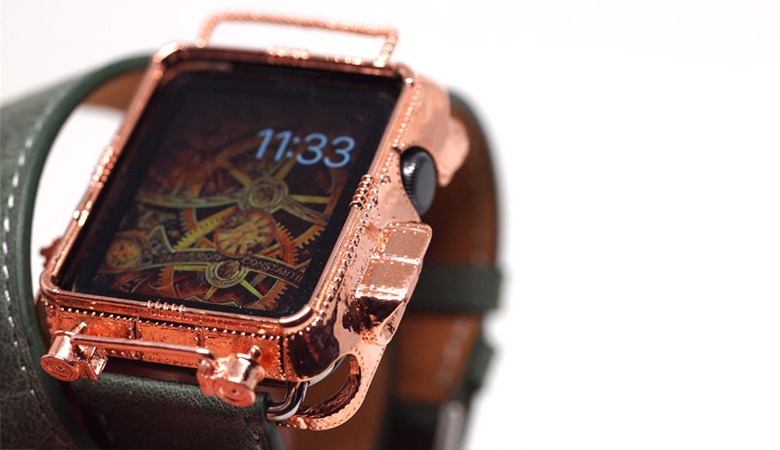 Post-finishing the 3D print
Even though Jeremy liked the bright and shiny appearance, he decided to go through with giving the cover a surface treatment: "I waited a few days then said 'What the hell' and dumped it in a solution of liver of Sulphur and hot water. The surface changed pretty much instantaneously from shiny coppery orange to a matte charcoal black. There was no going back now."
The now oxidized cover required some careful Dremel work. The steam fittings and the 'electric wires' on the bottom and top would be very susceptible to damage, so he had to be careful. Jeremy switched bits frequently depending on if he wanted scratches, high polish, or something in between. It had to look beat up but also cared for, like a real piece of machinery at a manufacturing plant. When he was satisfied with the look, he applied some Renaissance Wax to protect the patina.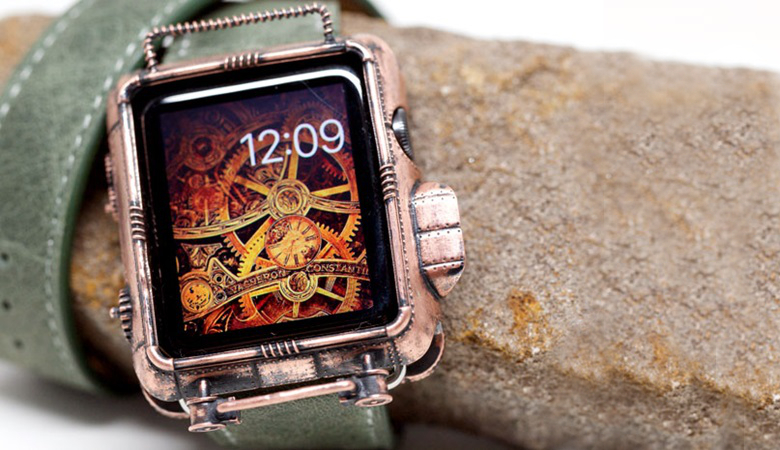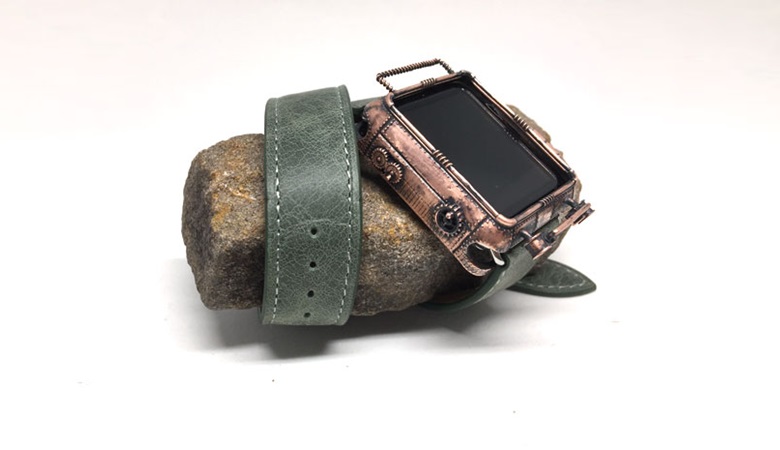 Get your own Apple Watch case or professional 3D print
If you want to get this Steampunk Apple Watch cover for yourself, you can guy it in Jeremy's Etsy shop. If you want to learn more about the designer himself, we invite you to visit his personal blog.
If you want to know how much your 3D model would cost as a professional 3D print in copper or in 100 other materials and finishes, simply upload your 3D file here for instant pricing.