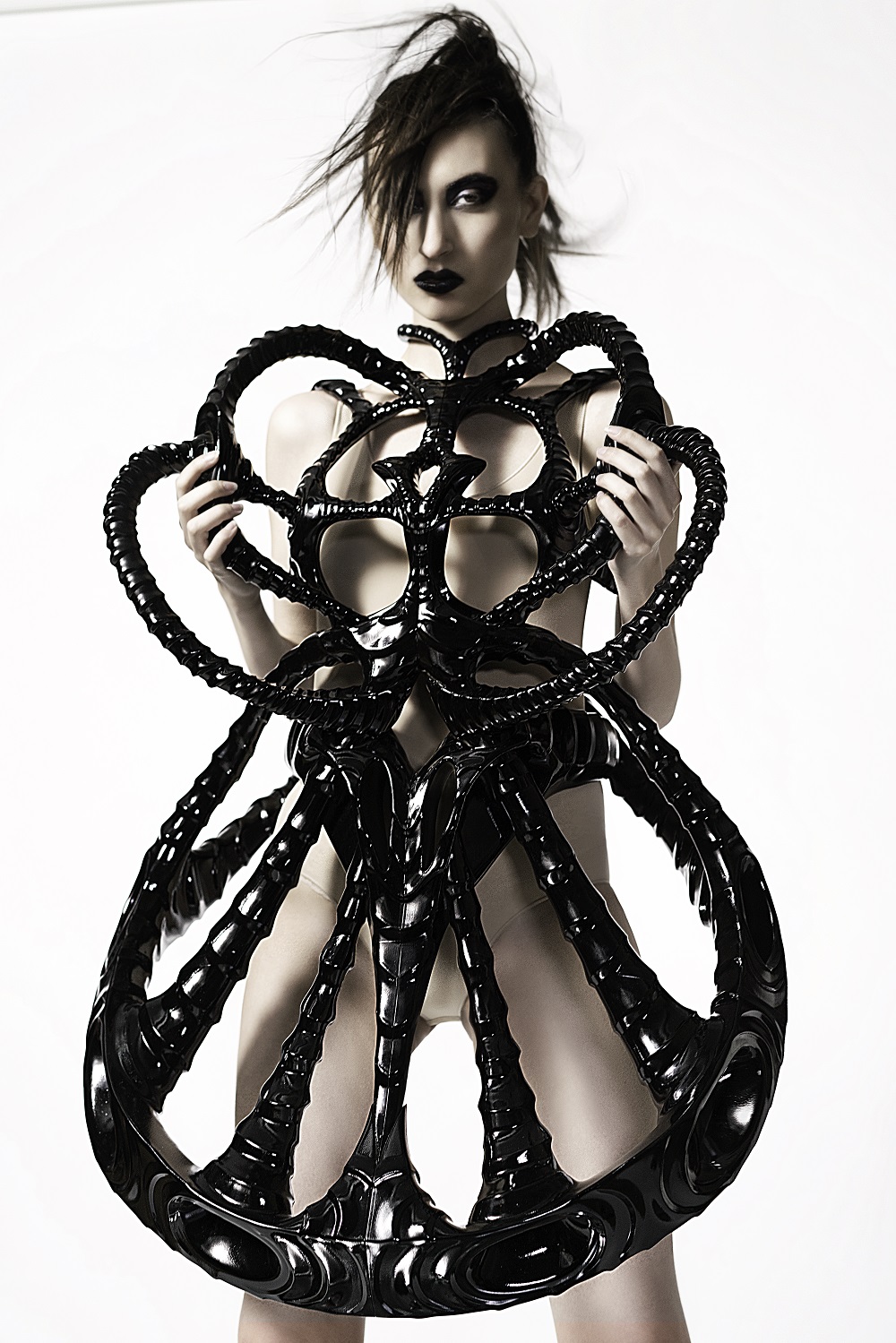 A 3D Printed Dress from Space: the Vortex Dress by Laura Thapthimkuna
by Fabian | December 14, 2016
In September 2015, US-based fashion designer Laura Thapthimkuna started a Kickstarter campaign for her next 3D printed fashion project: a space-inspired "Vortex Dress". After more than a year of hard work, Laura finally reveals the stunning results.
Laura Thapthimkuna is both a fashion designer and a design engineer. She studied fashion design, but her career as a design engineer happened by accident. She took some basic CAD classes while in school but acquired all her other technical CAD skills on the job. For a while, Laura didn't see how her day job could benefit her passion in fashion design, but when she discovered 3D printing, things really opened up for her.
"I kind of had a 'eureka' moment because ever since I started designing I kept trying to create really structural shapes that were very difficult through traditional means of using fabric and tailoring, and I wanted to try my hand at something new. I also found the experience of collaborating with others from outside mediums to be very intriguing."
After launching a successful Kickstarter campaign, Laura could finally realize her biggest 3D printing project to date: a dress that was entirely 3D-printed and called the Vortex dress, which the designer plans on using in fashion/film shoots and gallery events. "The print is special to me because it's my first entirely 3D printed garment" Laura told us.
Laura started by sketching out different ideas that stemmed from biomorphic funnel-like shapes which grew out of themselves. In total, she has been working on the design of the Vortex dress for a little over a year. Laura told us that she underestimated how long it would take to create a piece of this complexity: "I had to kind of surrender myself to the process since all the challenges I was facing were for the first time. There was definitely a learning curve."
The most stunning thing about this dress is its sheer size, which made the design processes more challenging. "I would say one unique thing about the print is its size, which was also a challenge because I had to anticipate weight distribution and center of gravity," she said.
Comparing different production methods, Laura soon realized that 3D printing was the only technology that would allow her to make her design truly come to life: "I used 3D printing to create this design because I couldn't see any other way of creating it. Also, it was a great opportunity to design my first fully 3D-printed garment. 3D printing adds the value of innovation by showing what's possible when going outside of my comfort zone as a designer."
Since Laura was looking for a print that was large-scale, featured a smooth high-quality surface, and allowed for easy post-processing and coloring, she found her perfect match with i.materialise's Mammoth Resin material. "I chose the Mammoth Resin material to print in because of its high-resolution, structural rigidity and how well it takes the paint. The print was finished in a black clear coat of paint."
For the design process, Laura's 2D sketches were turned into printable 3D files with 3D modeling programs ZBrush and Maya. The challenging part for Laura was to let go of the production and let a 3D printer 'manufacture' her work. "Learning to let go of the notion that I have to do everything myself was challenging for me initially. As an artist I've always done everything myself from start to finish, with 3D printing I need to work with others and let them interpret my vision to an extent, which turned out to be very rewarding in the end," she stated.