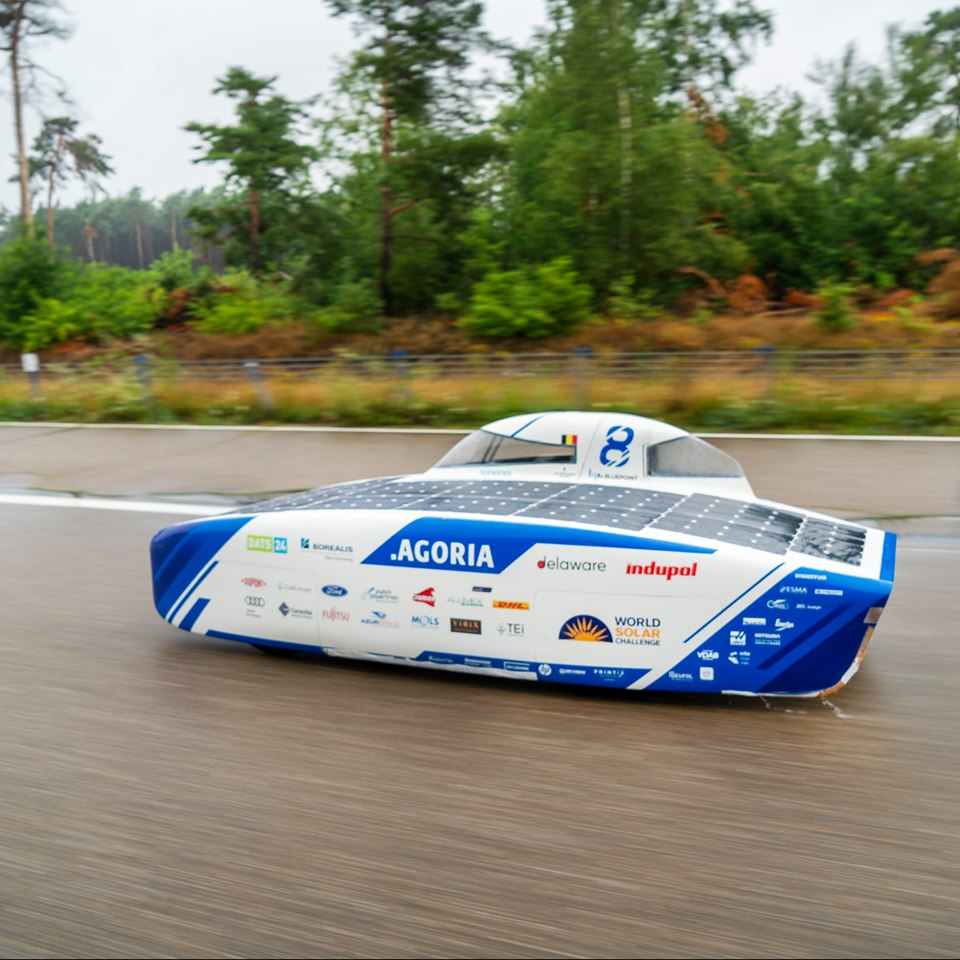 Solar Energy and 3D Printing Join Forces for an International Race
by Maddie | October 11, 2019
Imagine this: the Australian sun beating down on you, thousands of kilometers of road ahead of you, and a car that must absorb as much solar energy as possible while simultaneously avoiding overheating of the battery. This is just one of the dilemmas that Agoria Solar Team has been working to solve for over a year. Creating a battery that can stay cool in a running car through the outback is not an easy task, so the Solar Team asked our parent company, Materialise, to assist them in building a 3D-printed battery case for their solar-powered car. A car that will carry them in a race through the Australian outback.
Agoria Solar Team has existed for 16 years now, choosing a new team of students from a Belgian university called KU Leuven every two years to carry on the legacy and create a solar-powered car to participate in an impressive race. This competition, Bridgestone World Solar Challenge, takes place over 8 days from Darwin in the north to Adelaide in the south, a total of over 3,000 km. Agoria Solar Team has been designing and building this year's car, named BluePoint, since July 2018 in order to compete in the race October 13-20, 2019.

Agoria Solar Team celebrating the public reveal of BluePoint. Credit: Agoria Solar Team
Clearly, this project is no easy undertaking. Students must undergo a multi-interview process in order to be asked to join the team, and once the project has begun, they sometimes work 80 or 90 hour weeks to construct this amazing car from scratch. Each year, the students have the goal to improve their vehicle's performance 10 percent from the previous team's creation, so there truly is plenty of hard work, determination, and collaboration that must go into this project. And this year, the team's hard work is already showing. Team member Cédric Robert says, "We have even reached a car which is 15 percent more aerodynamic."
So how did 3D printing come into the picture? One of the main components of the car is the battery – the unit that holds excess energy and runs the car when there is inadequate sunlight. As such a crucial part of the vehicle, there was plenty of thought and design that had to be done in order to ensure it would run as efficiently as possible. This is where Materialise's 3D printing technology came into play.

The 3D-printed battery covering created by Materialise and the Solar Team. Credit: Agoria Solar Team
Using Laser Sintering and the material PA12, Materialise and the team worked together on a 3D- printed battery case to effectively hold the battery segments together and keep the battery cool enough under the hot Australian sun. 3D printing is the perfect solution for a piece with needs as complex as these because it can create the lattice structure required. This design provides enough structure for the battery, allows airflow to avoid overheating, and is lightweight enough to comply with competition rules.
The group worked over two or three weeks to create the perfect design that was just thin enough to hold the battery together without breaking under the pressure of a running car. With expert 3D printing advice from Materialise, the Solar Team was able to successfully print their piece to assist them as they traverse the Australian terrain. Collaborating and communicating on projects such as these is crucial to ensure that the print is both successful and able to accomplish the designer's goals.
Projects such as this solar-powered car give us an idea of the endless possibilities that 3D printing can have a hand in. From jewelry to art pieces to components for machines, 3D printing can be the perfect method to achieve shapes, textures, and functions that were previously impossible or too expensive to manufacture. There is now a freedom in design and manufacturing that businesses and individuals alike can run with in order to accomplish their dreams and ideas. Not only are these unique designs attainable with 3D printing, but they can also be duplicated again and again thanks to today's technology.
Interested in cheering on Agoria Solar Team during the race? Watch their live Dutch shows on the Agoria Solar Team Facebook page each evening of the race at 8 pm CEST. Keep up with race updates, information on their project, and more on all of their social channels.
Ready to begin with your own project? Upload your designs to our platform and bring your own ideas to life.