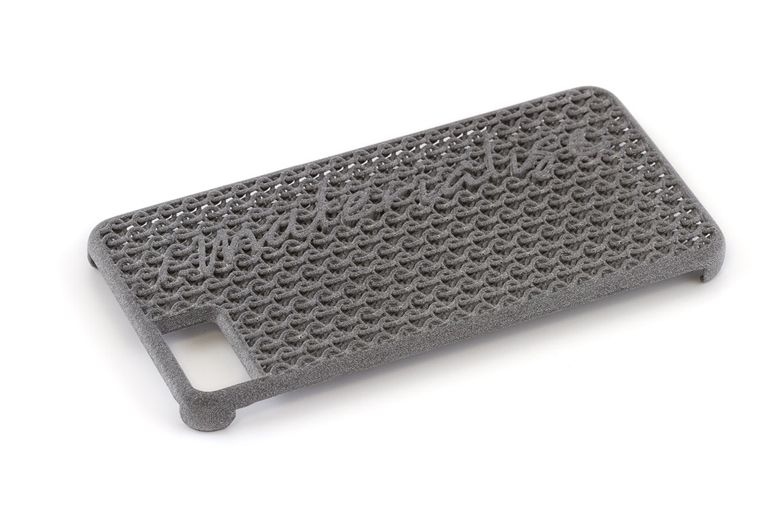 Polyamide MJF (HP): Now Available on i.materialise
by Erlinde | August 30, 2017
Today, we are very proud to announce the launch of our latest trial material: Polyamide (MJF). We're no strangers to HP's brand new 3D printing technology – the Materialise Manufacturing division received early access to the first MJF printers in order to test out the capabilities of the technology. And now it's available to you – our i.materialise community! We're looking forward to hearing your feedback in order to make Polyamide (MJF) the best it can be. Let's take a closer look!
Introducing Polyamide (MJF)
Using HP Multi Jet Fusion technology, models are constructed from very fine, granular powder. The result is a strong, somewhat flexible material. It is able to take a small amount of impact and resist some pressure while being bent. It is the ideal choice for when you need a smooth polyamide 3D print with a more detailed surface, thinner walls, a higher density and lower porosity, compared to printing in SLS.
Polyamide (MJF) comes in two finishes: a natural finish, and dyed finish.
When you choose a natural finish, the surface of your polyamide (MJF) print will have a granular look and gray color
If you decide to go for the dyed finish, we will submerge your model into a bath containing a black color pigment (also known as pigmentation or impregnating). However, take into account that it will add one extra working day to the lead time, as extra labor is required
Polyamide (MJF) can be used for complex models, concept models, and functional models. It allows the greatest freedom of design of all 3D printing techniques. Therefore, it is the ideal material for designers who want a well-priced model, and maximum freedom of creation without the limitations of the printing process.
HP Multi Jet Fusion Technology
HP Multi Jet Fusion is a powder-based technology that does not use lasers. Here is how it works: the powder bed is heated uniformly from the outset. Then, a fusing agent is jetted where particles need to be selectively molten, while a detailing agent is jetted around the contours to improve part resolution. Finally, lamps pass over the surface of the powder bed and the jetted material captures the heat and helps distribute it evenly.
Important Design Tips for Polyamide (MJF)
For polyamide (MJF), the minimum wall thickness you should take into account is 1 mm. However, for living hinges, it is even possible to go as low as 0.5 mm
We can print your object in polyamide (MJF) up to a maximum size of 256 x 340 x 360 mm. But of course, the total dimensions of your part can, in theory, be unlimited as components may be composed of several sub parts
Furthermore, there is the possibility of making interlocking or enclosed parts when printing in polyamide (MJF)
Finally, very small levels of detail are possible with this material (as small as 0.25 mm). However, for engraved or embossed text to be legible, we recommend letters with a minimum line thickness of 0.5 mm, a depth of 1 mm, and an overall height of at least 2.5 mm
You can read all of our design tips for polyamide (MJF), including examples, graphics and detailed explanations in our design guide.
Are you ready to give this technology a try? Upload your model here to order your 3D-printed polyamide (MJF) parts today. As this is currently a trial material, we highly value any feedback you could give us. Send any comments to community@i.materialise.com. Make sure to check out our material page on polyamide (MJF) to learn all about this material, or visit this overview page to learn more about our entire family of materials.