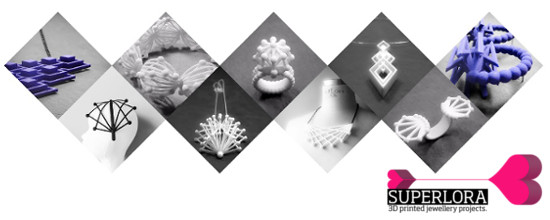 SUPERLORA: A 3D Printed Jewelry Brand at the Intersection of Art and Science
by Yui Takahara | May 12, 2016
Having initially studied physics and only later turned to the world of jewelry and fashion design, Ariadne Kapelioti calls herself a "scientist-gone-artist." According to Ariadne, art and science actually share surprising similarities, however much they might seem like polar opposites in popular imagination. That's why she instantly fell in love with 3D printing when she first discovered it; she knew that it would be the perfect tool to express her ideas and emotions in a scientific way.
To turn her inspirations into a fashion statement, Ariadne founded Superlora, the first 3D printed jewelry brand in Greece. Her colorful jewelry pieces all have a fun and vibrant twist, and each collection is carefully designed to visualize a scientific theme such as Astronomy. We interviewed Ariadne to take a closer look behind the scenes of Superlora.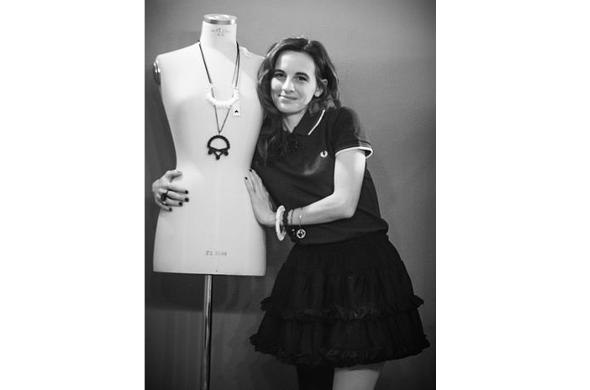 Hi Ariadne, could you tell us a bit about yourself?

I grew up in Thessaloniki, Greece, where I received a BSc in Physics from Aristotle University and furthered my education by studying Jewelry Design and Fashion Contextual Studies at London College of Fashion, the Central Saint Martins College of Art and Design and Condé Nast College of Fashion and Design in London, UK. A few years ago, I proudly founded "Superlora,", the first Greek jewelry brand embracing 3D printing technology.
When I am not in my studio working (which is rare!) I love spending time with family and friends, drinking cocktails or playing with my two beautiful dogs. I must say that am one of the few people left in the world that enjoys reading books and magazines and going to the cinema…
How does your scientific background influence your design style?

Science and art may appear to be two conflicting subjects, however, they have fundamental similarities. They both require creativity, inspiration, experimentation and hard work. Science has always ruled my mind and art has always made my heart beat faster! It was the need to achieve internal balance which led to combining all the things I love in my everyday life. The outcome is Superlora; quirky, fun and vibrant jewelry projects.
Why did you choose 3D printing to turn your ideas into reality?

After spending time on creating jewelry with traditional silversmith techniques, I got a bit bored and started researching for new methods and materials. Later on, I encountered 3D printing technology and instantly fell in love. This was the perfect way to express my ideas and emotions in a scientific way; 3D printing offers great accuracy in complex forms. The list of material types has only just started growing, and customization options, which are important for jewelry design, are endless.
My feeling is that 3D printing could potentially change the fashion industry entirely, as fashion is one of the oldest artistic expressions which has been always influenced by political, social and technological changes.
Where do you get your inspiration from?

I get inspired by life, everything really, which I then try to understand and express in a visual form; I introduce people to my worldview. For example, my "Faces of Rebirth" project draws inspiration from Astronomy. Earth has seasons because its axis doesn't stand up straight, but is tilted at an angle of 23.5°. The collection features geometric patterns formed by this angle, as a tribute to the seasons here on Earth, therefore, rebirth in every form of life.
What is your typical workflow on a new 3D printing project, and which part of your design process do you find most challenging?

After all the research on my initial idea is done, I usually start sketching patterns, then I create a collection of about five pieces and once the hand-drawn drafts are ready, I start designing on the computer. Actually, the point at which I launch "Sketch Up" or "Modo", is when the real designing begins! There comes a point when I force myself to stop drawing things that are too quirky to wear or too expensive to 3D print, which is the most difficult part of the designing process. Eventually, the first 3D printed test models come to my doorstep and it feels like Christmas!
You're using unique materials for your 3D prints. Why are these materials most suitable to your creation?

Even though I have 3D printed in metals a few times, I am sure that by now you understand that I am not a person who goes with the flow… Metals are a more traditional material for jewelry, which I have worked a lot with in the past. Now it is time for me to experiment with fresh, light and colorful materials such as Polyamide, Alumide and Rubber-like.
What's your ambition as a jewelry designer? Are there any new collections coming up?

I am at the starting point of my next collection and it is all a blur right now, however, I am focused on designing more complex models, and taking advantage of the fabulous world of 3D printing. The future is always a surprise for me. Overall, I strongly support sustainable fashion by producing jewelry that doesn't follow trends, but attempts to fit the zeitgeist of the era. Therefore, I aim for and hope that my work will be current in the years to come.
Ariadne's 3D printed jewelries are available for purchase on her website and her i.materialise shop. Can't wait for Superlora's next collection to come out? Be sure to get updates on Facebook, Twitter and Instagram!