At i.materialise we"re all about providing people with high end, complete 3D printed products. Our 3D printed Stainless Steel door handles kit is our newest example of this. Inspired by PeLi Design"s Machine"s Perception door handles we made a kit and manual for you so you can make your very own door handles. The stainless steel 3D printed door handles come complete and one set costs $299 (199 Euro) including shipping. A designer can download the design  kit for Sketchup, 3DS Max, Rhino and OBJ. Together with the manual a proficient designer, 3D modeler or CAD engineer will have the information they need to make their very own. The door handle page, kit and manual is here.  
We hope people will use this to make their homes more to their liking. At the same time we expect some designers to enter into the world of fixtures and compete directly with established manufacturers by offering their door handles for sale. Are you not a designer? No problem. Use our Sketch to 3D 3D modelling service to turn a drawing of  your own door handles into a design. A set would then cost you around $379.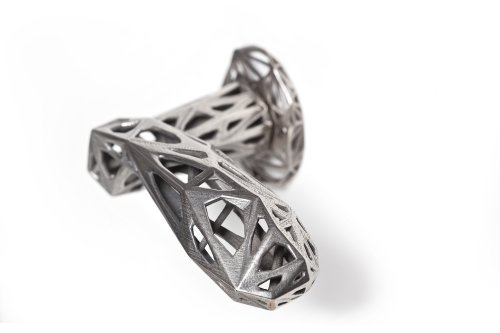 Truth be told there are cheaper door handles out there. Much cheaper ones in fact. But, at the same time there are many design door handles are much more expensive than the ones you can create with us. What is special and unique about our offering is that now you can bring individualized 3D printed products to your doorstep. You can now make things for inside your home to make this home suit your needs and aesthetic. i.materialise lets you design your life.