Since we're dealing with electricity, you have to make sure to include a spherical zone around the light bulb of Ø 6 cm / Ø 2.4 inch. This zone needs to remain completely open (hollow); it cannot contain any material.
The design kit contains a Ø 6 cm / Ø 2.4 inch sphere to perform this safety check. Place the sphere inside your lamp shade and make sure they don't intersect.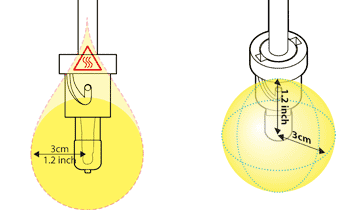 Foresee an opening for cooling of your lamp, allowing airflow. When you have ordered and uploaded your table lamp, we do this safety check ourselves once more. This way we can deliver the safest product possible to you.